Poll: 56% Determined To Vote In General Election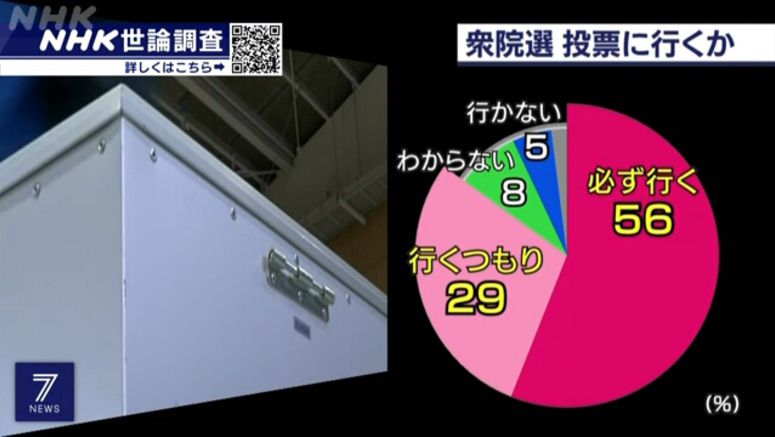 NHK's latest poll shows 56 percent of respondents definitely plan to vote in the upcoming Lower House election, up 4 percentage points from a week earlier.
More than 2,900 people, aged 18 or older, responded to the phone survey held over a 3-day period from Friday.
The approval rate for Prime Minister Kishida Fumio's Cabinet was 46 percent, down 3 percentage points from a week before. The disapproval rate rose 4 points to 28 percent.
Asked if they will go to the polls on October 31, 56 percent said they will definitely go, while 29 percent said they intend to go. Eight percent were undecided, and 5 percent said they will not vote.
Respondents were also asked about their level of interest in the race. Twenty-eight percent said they are very interested, and 49 percent said they are interested to some extent. Sixteen percent were not very interested, and 4 percent had no interest at all.
Asked what issues they feel are important in the coming election, 34 percent chose economic and fiscal policies, while 22 percent selected measures against the coronavirus. Another 22 percent went for reviewing the country's social security system; 6 percent for diplomacy and national security; another 6 percent for environmental and energy policies; and 3 percent for constitutional amendments.
On how they want Lower House seats to be distributed after the election, 25 percent said they want the governing coalition to gain seats. Thirty-one percent said they hope the opposition camp will do so, while 39 percent said they could not say either way.