Prayers For Victims Of 1945 Battle Of Okinawa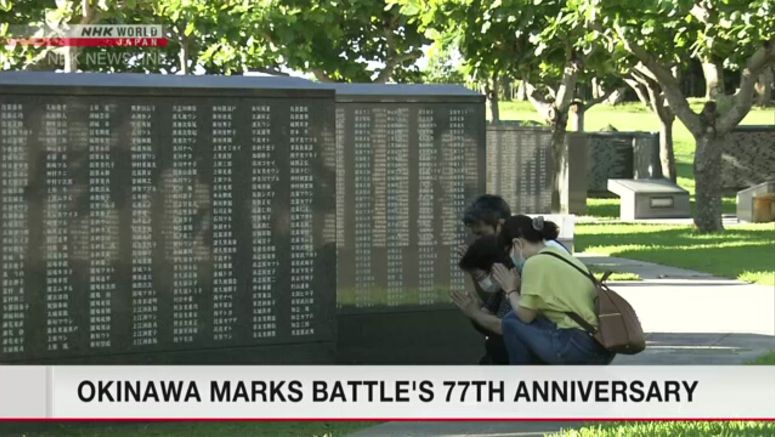 People in Japan's southern prefecture of Okinawa are observing the 77th anniversary of one of the deadliest battles of World War Two.
More than 200,000 people lost their lives, including roughly one-fourth of Okinawa's residents.
Okinawa recognizes June 23rd, 1945, as the final day of organized combat between the Imperial Japanese military and US-led forces.
People have been visiting the Cornerstone of Peace since Thursday morning.
It is located in a park that sits where some of the fiercest fighting happened, in the battle's climactic moments.
A woman, in her late 70s, lost her father before she could see him. She said, "I never had the chance to get to know my father. I hope society can learn to live without conflict, so that fewer people experience what I have been through."
Only about 10 percent of Okinawa's current population was alive before the end of World War Two. Those born after say they want future generations to understand the tragedy of the battle.
Another woman in her 30s said, "My kids and I will spend today reflecting on how grateful we are to spend every day living in peace."
At noon, people attending an official memorial ceremony observed a moment of silence.
Attendance at the ceremony was scaled back due to concerns over COVID-19.
Prime Minister Kishida Fumio and other officials were among the 300 people who took part.
Okinawa Governor Tamaki Denny drew comparisons to what innocent civilians are enduring today in Ukraine, following Russia's invasion.
Tamaki said, "It is an indescribable shock to see what's happening there now remind us of what happened here 77 years ago, during the Battle of Okinawa. From here to the rest of the world, we would like to raise our voices for peace. We will continue to call for the eradication of nuclear weapons, the end of war, and peace for all time, so that Okinawa never becomes a battlefield ever again."
Tamaki also addressed the enduring presence of American armed forces on the island.
This year marks the 50th anniversary of Okinawa's return to Japan from postwar US rule. But about 70 percent of US military facilities in the country are still concentrated in the prefecture.
The governor has repeatedly called on Japan's central government to reduce that burden as soon as possible.