Questions Raised Over Impact Of Japan's Currency Market Intervention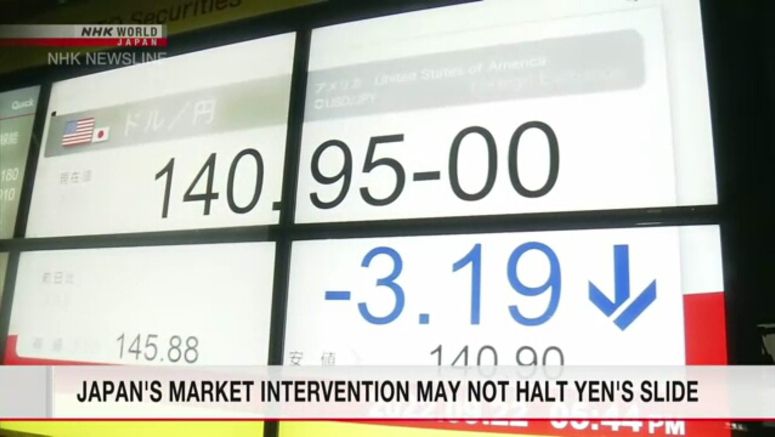 Questions are being raised over whether Japan's latest intervention in the foreign exchange market will have a lasting effect of propping up the yen.
The government and the Bank of Japan stepped into the market on Thursday to buy the yen and sell the dollar. It was the country's first such move since June 1998.
The operation came after the Japanese currency briefly tumbled in Tokyo trading earlier in the day, with the greenback trading in the upper 145-yen range.
Following the intervention, the Japanese currency temporarily gained ground, with the dollar falling by more than 5 yen to the lower 140 range.
A senior Finance Ministry official told reporters on Thursday that he will not reveal what tools Japanese authorities have to address the yen's depreciation. But he said they will act again if necessary.
The problem is there is a limit to Japan's foreign exchange reserves available to carry out interventions.
Also, Bank of Japan Governor Kuroda Haruhiko is expected to maintain the bank's massive monetary easing policy, in contrast to recent interest rate hikes by the US Federal Reserve. He told reporters on Thursday that the BOJ will not raise rates for the time being.
Investors are likely to continue selling the yen and buying the dollar as they expect the rate gap between Japan and the US to widen further.
Analysts say this makes it unclear how long Japan's latest intervention and any future interventions will be able to shore up the yen.