State Of Emergency Extended For Tokyo Area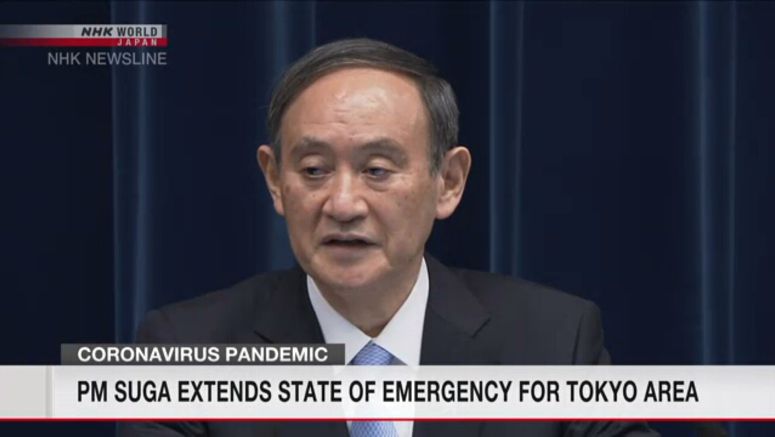 The Japanese government has extended a state of emergency imposed to contain the coronavirus for two more weeks in Tokyo and the three neighboring prefectures of Chiba, Saitama and Kanagawa.
At a news conference on Friday evening, Prime Minister Suga Yoshihide said, "We've decided to extend the state of emergency until March 21. That timeframe is necessary to contain the spread of infections, as well as to assess the situation more carefully."
The measure has been in place since January 7. It was due to end on Sunday.
Suga said criteria including daily new cases and hospital capacity have improved in the region, but not enough.
There were more than 300 cases confirmed in the capital on Friday. The daily tally has been declining, but the rate is slowing.
The number of cases in the week through Friday exceeded the week before for the first time since mid-January.
Suga again called on the public to cooperate, saying, "We will maintain current measures such as shortened business hours for restaurants, a voluntary ban on nonessential outings, and more working from home. These have proven effective. Together with local governments, we will continue to strongly encourage these measures."
The prime minister added that the government will step up efforts to prevent cluster infections by carrying out tests at about 30,000 elderly care facilities and other locations by the end of the month.
Suga also spoke about the hospitality industry, which has been hit hard by the pandemic.
He said his administration will maintain expanded wage subsidies and other financial programs.