Suga Vows To Help Fukushima Evacuees Return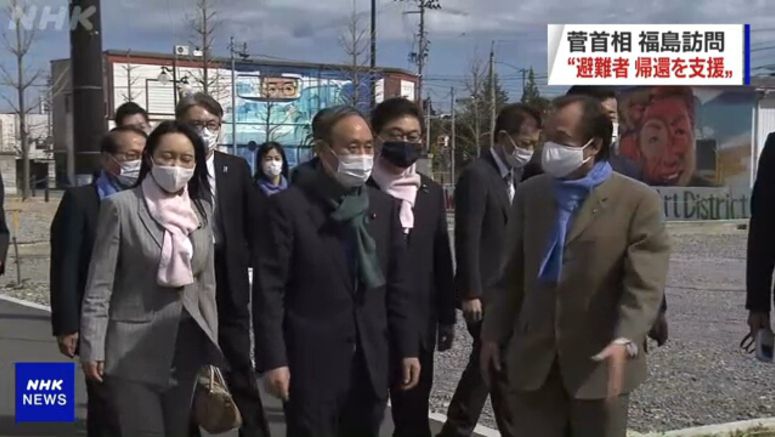 Japanese Prime Minister Suga Yoshihide has visited Fukushima Prefecture and pledged that every resident forced to evacuate by the 2011 nuclear accident will eventually be able to return.
Suga visited the town of Okuma on Saturday, in the lead up to the 10th anniversary of the March 11 disaster. Okuma is one of two towns where the damaged Fukushima Daiichi nuclear power plant is located.
Suga inspected a new commercial building that will open this spring in the Ogawara district, where the government evacuation order was lifted two years ago.
Okuma Mayor Yoshida Jun briefed Suga about the building and the progress in local rebuilding efforts.
The areas around the plant remain off-limits in principle, and are designated a "difficult-to-return" zone.
But Suga told the mayor that the government has no intention of changing its position that all evacuation orders should eventually be lifted.
He noted that evacuees are under enormous strain, and he said the government will ensure they can one day return home.
Suga then moved to Futaba, the other town where the plant is based. All of the residents remain evacuated, and people are prohibited from entering much of the town.
Suga visited an area around JR Futaba Station. The evacuation order was lifted for the area one year ago, when the JR railway line along the Pacific coast of Fukushima Prefecture resumed full service.
The visit by Suga is his second to Fukushima Prefecture since becoming prime minister. Later in the day, he will visit the town of Namie and the city of Minamisoma, both badly affected by the disaster.
Suga will meet local residents and inspect a research and development base designed to help the recovery of industries around the Fukushima Daiichi plant.