Tokyo Reports Highest Daily Covid Cases Ever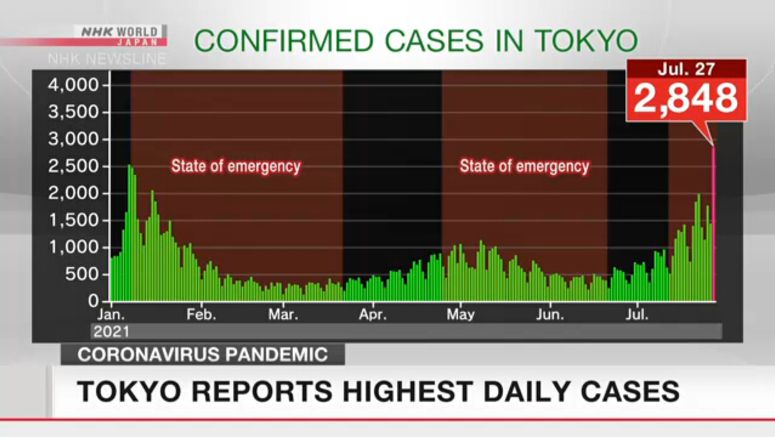 Officials in Tokyo confirmed over 2,800 new infections of the coronavirus on Tuesday. That's the highest daily tally in the capital ever.
The number increased more than 1,400 from last Tuesday, topping 2,000 for the first time in over six months. The spike comes as Tokyo remains under a fourth state of emergency.
Japanese Prime Minister Suga Yoshihide said, "An increasing number of people in their 40s and 50s are being hospitalized for COVID-19. The more transmissible Delta variant is becoming dominant. We will work with local governments to prevent infections with a strong sense of caution."
Suga denied an option to cancel the Tokyo Games, saying that there are fewer people going out, in response to journalists who repeatedly asked him whether Tokyo can still hold a safe and secure Olympics as he'd promised.
Residents are urged to avoid non-essential outings and work from home when possible. Restaurants and bars are asked not to serve alcohol and close early.
To prevent the spread of infections, the Olympics are being held without spectators in the Tokyo area.
The spike in coronavirus cases is pushing the medical system to the brink of collapse. Doctors at Tokyo Hikifune Hospital say their beds are now full.
They say the Summer Games are presenting an additional burden as the hospital has sent eight medical staff to the Olympic venues. Hospital doctor Miura Kunihisa said, "It's endless. We're doing all we can. But we're hitting our full capacity."
Daily cases are also increasing in prefectures around Tokyo. In the southern prefecture of Okinawa, which is also under a state of emergency, a record 354 new cases were reported on Tuesday.
Strict anti-virus measures in six prefectures across Japan will be in effect until August 22.