Tropical Storm And Moist Air Bring Heavy Rain, Wreak Havoc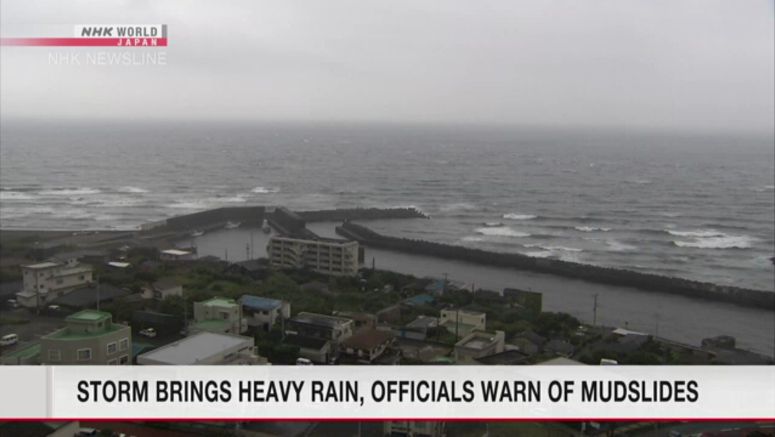 Tropical Storm Meari has brought torrential rain to the Izu Islands south of central Tokyo.
The Japan Meteorological Agency says that the storm made landfall on Saturday evening on the Izu Peninsula in Shizuoka Prefecture.
The storm was off the eastern coast of the Tohoku region at 9:00 a.m. on Sunday. It was moving northeast at about 45 kilometers per hour.
Weather officials say a band of heavy rain clouds formed over the Izu Islands, which caused a heavy downpour Saturday night.
The cumulative rain in the 24 hours through 9:00 a.m. Sunday was 311.5 millimeters, a record for Izu Oshima Island. That is over 50 percent above the average for the entire month of August.
Weather officials also say atmospheric conditions grew unstable across a wide area from northern to western Japan due to moist air flowing in from the south.
That brought 83 millimeters of rain between 8 a.m. and 9 a.m. on Sunday in the town of Kushimoto in Wakayama Prefecture, western Japan.
The risk of landslides is increasing due to continuous heavy rain in various parts of Honshu, in addition to the Izu Islands.
Rivers in Iwate Prefecture, northern Japan, are swollen and some have high risk of flooding.
Up to 120 millimeters is expected in the 24 hours through Monday morning in the Izu Islands, 100 millimeters in the Tokai region, 80 millimeters in the regions of Tohoku, Hokuriku and Kansai, and 60 millimeters in the Chugoku region.
Residents are advised to stay alert for landslides, swollen rivers, flooding, thunder strikes, and gusty winds including tornadoes.