Tropical Storm Brings Heavy Rain To Tokyo's Izu Islands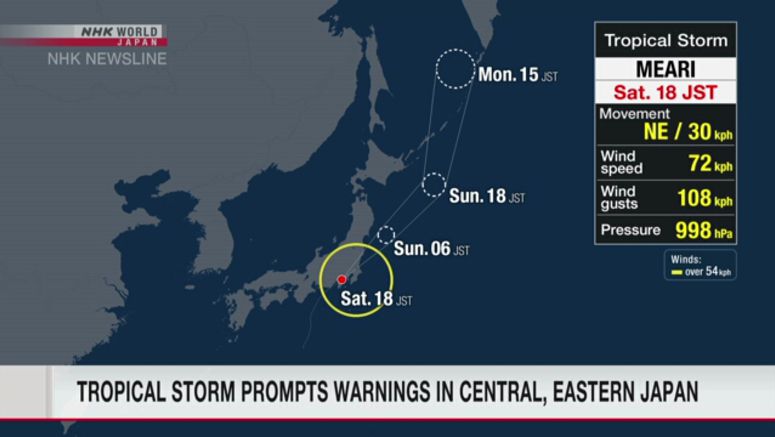 Tropical Storm Meari is bringing torrential rain to the Izu Islands, south of Tokyo. Japanese weather officials say a band of heavy rain clouds formed in the area late on Saturday.
The Meteorological Agency says the tropical storm was 90 kilometers east of Ibaraki Prefecture's Mito City as of midnight Saturday. The agency says it was moving east-northeast at about 40 kilometers per hour.
The storm is heading away from the Kanto region. But atmospheric conditions will remain unstable in the northern part of the Izu Islands through dawn on Sunday. Downpours of more than 80 millimeters are expected again in the area.
Strong winds and rough seas are forecast for the Kanto region and the Izu Islands.
There is a risk of landslides, floods in low-lying areas, and high waves. Rivers could also swell suddenly.
The northern part of the Tohoku region was hit by record rainfall, due to a weather front. The heavy rain caused damage in many places. It also caused rivers to flood.
The front is expected to weaken on Sunday. But localized downpours are possible.
Weather officials are calling on people to stay on the alert. They are urging individuals to watch out for landslides, floods in low-lying areas and swollen rivers.