Tokyo Olympic Torch Relay Kicks Off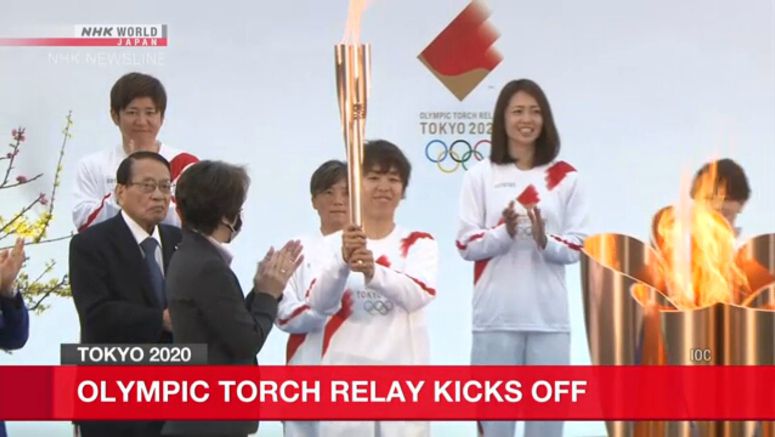 The Olympic torch started its journey across Japan on Thursday, one year after the Tokyo 2020 Games were postponed due to the coronavirus.
The torch relay will travel through all 47 prefectures and be carried out under tight anti-coronavirus measures.
The relay began in the northeastern prefecture of Fukushima, which was devastated by the 2011 earthquake, tsunami and nuclear accident.
A ceremony was held with officials expressing their hopes to overcome the pandemic and showcase recovery efforts 10 years after the disaster.
At the ceremony, Tokyo 2020 President Hashimoto Seiko said she hopes the Olympic flame of the Tokyo Games will light up hopes around Japan one by one with its sacred, powerful and warm shine.
Fukushima Governor Uchibori Masao said, "Here in Fukushima Prefecture, we have been facing serious problems and are still recovering from 2011. So the torch relay and the Games are very precious for us -- the people in Fukushima."
The flame was brought to Japan from Greece in March 2020.
The first runners are members of Nadeshiko Japan, the national women's soccer team that won the 2011 World Cup, soon after the country was hit by the disaster.
About 10,000 runners plan to participate in the relay, each carrying the torch for around 200 meters.
Due to the pandemic, tight prevention measures are in place. Officials have asked spectators to wear masks and to refrain from supporting the runners by yelling loudly.
The 121-day journey is scheduled to end at the national stadium in Tokyo on July 23 for the Opening Ceremonies.