2021 Acura Mdx Stops By The Patent Office, Could Gain A Type S Variant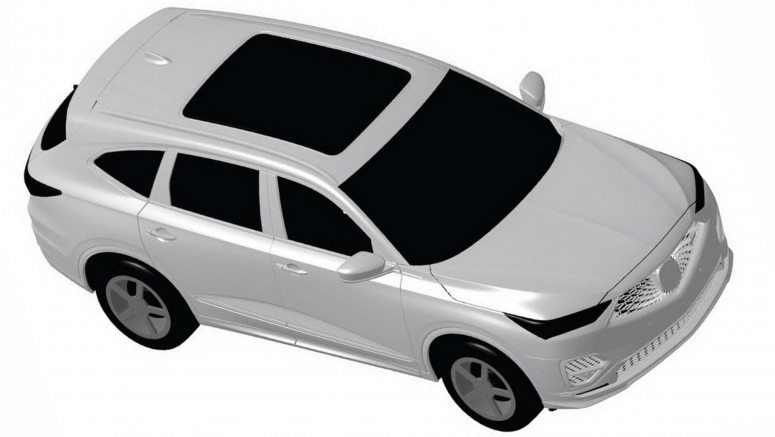 Photos of the redesigned Acura TLX surfaced last week and now they're being followed by pictures of the all-new MDX.

As you can see, there are two different designs for the upcoming crossover and one of them appears similar to what was discovered in an infotainment system last summer.
Starting with that variant, it has a diamond pentagon grille that is flanked by slender headlights and vertical air intakes. The model also has a sportier greenhouse and a pronounced shoulder line. Other highlights include sculpted doors, a panoramic glass roof and a dual exhaust system.
The other picture depicts a slightly more aggressive crossover as it features a unique front fascia with larger air intakes and a revised grille. We can also see what appears to be a location for a grille badge.
We're not entirely sure what the two models are, but there are a couple of possibilities. The more aggressive crossover could be an A-Spec or Type S variant, while the more conservative one could be the base model or the Sport Hybrid. It's too early to tell, but the less aggressive model has more restricted intakes and this suggests it could be an eco-friendly variant.
Little is known about the redesigned MDX, but it will likely be heavily influenced by the RDX and TLX. As a result, we can expect an all-new platform and possibly an entry-level variant with a turbocharged 2.0-liter four-cylinder engine developing 272 hp (203 kW / 276 PS) and 280 lb-ft (379 Nm) of torque. There could also be a new Sport Hybrid and a performance-oriented Type S with a turbocharged V6 engine.
The MDX is expected to be unveiled later this year, but its debut could be impacted by the coronavirus pandemic.
Photo
Gallery