Lego: Australia's Mount Panorama Circuit Recreated Using 150,000 Bricks With A Honda Twist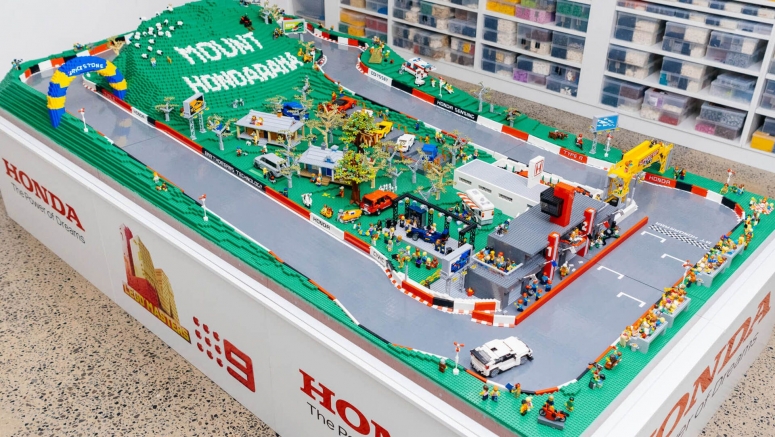 Honda has teamed up yet again with Ryan 'The Brickman' McNaught, a LEGO Certified Professional, for another impressive build, after a successful second season of 'LEGO Masters'.
Dubbed the 'Mount Hondarama', their latest project recreates the Mount Panorama racetrack in Australia on a smaller scale.
Read Also: LEGO Technic Lamborghini Sian FKP 37 Is A 3,696 (Master)Piece 1:8 Scale Model
Besides the famous circuit, it includes some of automaker's most iconic cars from the past, as well as LEGO remote controlled cars, modern vehicles, power equipment, motorcycles, Honda dealership, service center, Formula One car and HondaJet. The whole build weighs a massive 463 lbs (210 kg) and measures 130 inches (3.3 meters) long and 71 inches (1.8 meters wide). It was constructed by a team of eight builders who needed more than 650 hours and 150,000 bricks to build it.
"The biggest challenge for us this year is the fact that we've got lots of moving pieces. Moving parts are very challenging to do with LEGO, let alone having cars actually racing around a LEGO model", said McNaught. "Our mantra is to grab people's attention with something obvious, and then hold their attention with lots of special details and fun things. One of the great things about LEGO bricks is that you can bring dreams to life and that's exactly what we've been able to do with all of Honda's products."
The Bathurst layout holds a special place in Honda's history, after the Civic Type R managed to set a lap record for front-wheel drive production cars last year. With former F1 champion Jenson Button at the helm, the hot hatch lapped the 3.9-mile (6.2-km) long track in 2:35.207.
The Civic Type R was also recreated on a 1:1 scale using the small LEGO bricks in 2019. Back then, McNaught's team of nine used more than 320,000 small bricks and worked on the project for over 1,300 hours.
Photo
Gallery