Lexus J201 Concept Is A 550 - Hp Lx 570 Turned Up To Eleven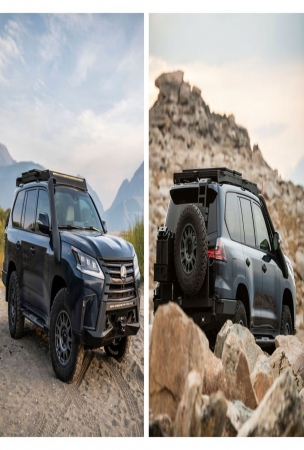 Lexus and Expedition Overland have turned the LX 570 flagship SUV into the most capable version of itself.
Set to debut at the 10-day-long Rebelle Rally on October 8, the Lexus J201 Concept owes its name to the Lexus LX 570's internal chassis and platform code, URJ201. Cutting straight to the chase, this is a lifted SUV powered by a supercharged 550-horsepower V8 engine and kitted with an array of performance parts.
At the front, there's a CBI Offroad bumper fitted with a winch and 30-inch (762-mm) light bar from Rigid Industries. The rear bumper also comes from CBI Offroad and is equipped with a ladder, dual swing-outs, spare tire, Baja Designs S2 Sport Lighting, and Scepter 5-gallon water cans.
See Also: New Lexus GX Overland Concept Is The Perfect SUV To Take You Off-Grid
The Lexus J201 rides on 17 x 8-inch Evo Corse DakarZero wheels wrapped with 285/70 R17 General Grabber X3 all-terrain tires. Look closely through the spokes and you'll also notice drilled front and rear rotors with Super Sport performance brake pads and color-matched calipers.
The extra stopping power is needed because the Lexus J201's 5.7-liter V8 is boosted to 550 HP and 550 lb-ft (745 Nm) of torque via a Magnusson TVS 1900 supercharger. To remove any doubt that the Lexus off-roader means business, you should also know it features performance differentials front and rear with air lockers, a snorkel and an off-road compressor mount system.
That's not all; compared to the standard LX 570, the upgraded Icon Vehicle Dynamics suspension raises the J201 by an additional 4.8 inches (122 mm) at the front axle and 4.1 inches (104 mm) at the rear axle.
Inside, the J201 brings upgrades such as an ARB Linx Accessory Interface to control the auxiliary lighting, air lockers, and compressor, as well as aluminum travel cases and a drawer module for the trunk. The rugged SUV is also equipped with a roof rack system and 40-inch roof light bar.
The Lexus J201 will be driven in the 2020 Rebelle Rally by the defending champions, Rachelle Croft and Taylor Pawley of The X Elles team. The women-only event spans over 2,000 kilometers (1,242 miles) of challenging terrain and climates throughout California and Nevada.
Photo
Gallery