See The New Ineos Grenadier Next To Classic Toyota Fj40, Willys Jeep And Mercedes G - Class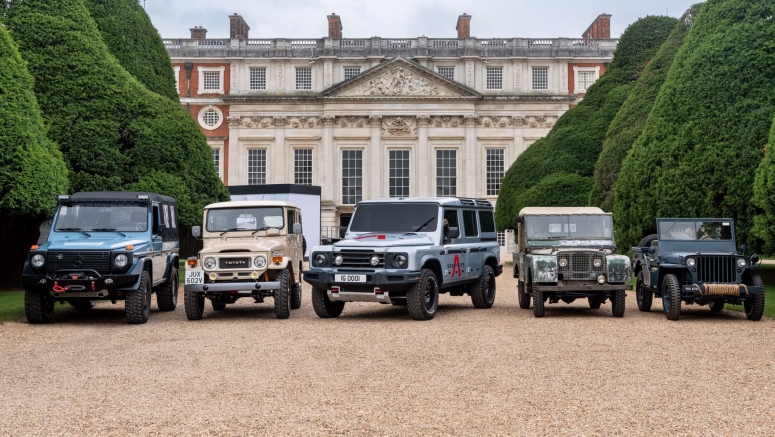 The new 2021 Ineos Grenadier has made its public debut at the London Concours of Elegance, with the company putting a prototype on display to pose next to a collection of historic off-road models.
Ineos Automotive's Concours display features the first-ever production Land Rover Series 1 model, a fully-restored 1980 Toyota FJ40, a 1944 Willys Jeep, and a 1988 Mercedes G-Class to showcase the design inspirations of the upcoming Grenadier.
Read Also: Ineos Submits Binding Offer To Purchase Daimler's Smart Plant
"We brought some of the great 4x4s of the past into the studio to look closely at what made them so enduring," said Toby Ecuyer, Head of Design at Ineos Automotive. "And now, it's fantastic to see Grenadier in the company of these legends. You can see common design traits and proportions, and certainly the same clarity of purpose. I think the Grenadier sits very naturally among these 4×4 icons, and if others agree, then we've achieved our design objective."
The new Ineos Grenadier was engineered from the ground up as a rugged off-roader to fill the void models like the original Defender created when they went out of production. It rides on a ladder frame chassis and suspension engineered by Magna Steyr in Austria. Both axles front and rear will be solid.
Under the bonnet of the Ineos Grenadier, you'll eventually find BMW-sourced 3.0-liter straight-six turbo engines, both in petrol and diesel forms, paired to an eight-speed automatic transmission. Power goes to all four wheels, with the four-wheel-drive system featuring a two-speed transfer case and a mechanical center locking differential.
"It's very fitting that the vehicle is being showcased alongside a collection of off-road icons," said Dirk Heilmann, CEO at Ineos Automotive. "They have served as the inspiration for the Grenadier project and represent the uncompromising go-anywhere spirit that the new vehicle will deliver for customers around the world."
Ineos says that prototype testing of the Grenadier is currently underway, aiming to cover 1.8 million km both on and off the road over the coming year. Sales are officially going to start worldwide at the end of 2021. According to reports, the carmaker is in advanced talks with Daimler over the purchase of the Smart factory in France.
Photo
Gallery