The Bmw Grille Is The Least Bizzare Thing About This Honda Civic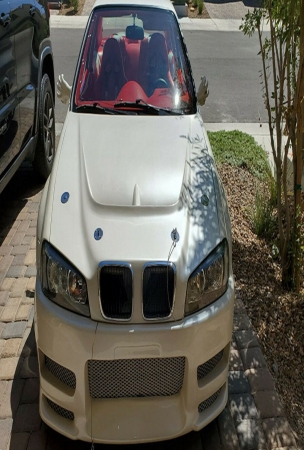 In the late 1990s and early 2000s, there was a sub-culture of car modifying that typically saw owners of cheap Japanese cars outfit them with outlandish bodykits, wacky paint jobs, and bespoke interiors.
These bizarre creations, often referred to as 'ricers' or 'sex spec' cars, have not aged gracefully. Just take a look at this 1996 Honda Civic we recently came across from a Reddit user who apparently found it listed for sale in Las Vegas Nevada..

The car is up for sale in the U.S. (or at least was, as we didn't manage to find it – if you have, do tell in the comments) with an eye-watering price tag of $11,000. Now, while we're sure the owner spent a considerable amount of time making this Civic, we can't imagine it selling for that much.
Read Also: No Low Ballers, I Know What I Have – The Elusive Mercedes-Bends Type-Crack
Starting with the exterior, it is said to be a Cadillac White metallic paint that we happen to think actually looks quite nice. The car then sports a unique fiberglass bodykit that includes custom front and rear bumpers, flared wheel arches, and extended side skirts. The front looks particularly odd due to the presence of R34-generation Nissan Skyline headlights and BMW M3 kidney grilles, although we suspect these parts are knock-offs and not the real deal.
Hands on
Spin around to the rear and the curious design choices continue with taillights lifted from a Lexus SC430 and what seem to be trunk air scoops – no comment…  Then we come to the real elephant in the room; the hands. Perhaps the owner has a hand fetish as there are wing mirrors in the shape of hands and throughout the cabin, there are also heaps of hands across various surfaces.
Speaking of the interior, most of it is wrapped in Candy Apple Red vinyl. The instrument cluster has also been shifted to the middle while the aftermarket head unit is now placed where the gauges used to sit. Clearly, knowing what song is playing is more important than knowing your speed…
A number of alterations have been made to the four-cylinder engine, including an AEM cold air intake and aftermarket headers. There is also a straight-through exhaust pipe.
The seller notes that the car has a number of wiring issues that will apparently cost $350 to fix. Off to you, dear reader.
Photo
Gallery