Trd Gives New Toyota Yaris Cross A Sweet Rally Kit, Modellista Joins The Tuning Party Too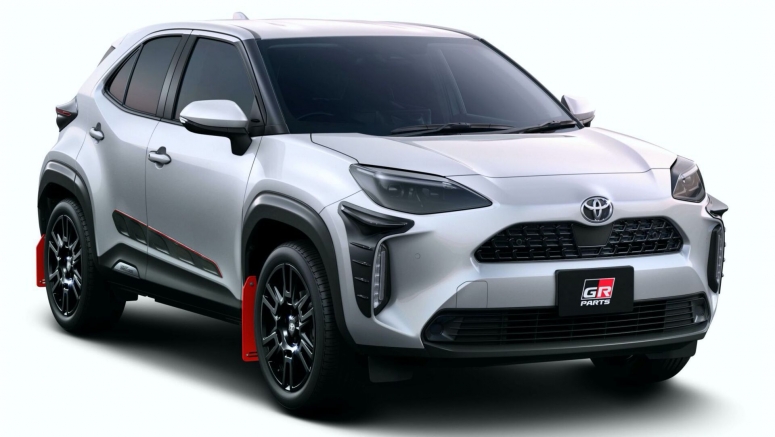 Toyota's in-house tuners TRD and Modellista have released aftermarket parts for the new Yaris Cross on the same day the subcompact SUV debuted in Japan.
As with the regular Yaris, TRD and Modellista adopt different styling directions: the former enhances the Yaris Cross' off-road character while the latter makes it more street smart. Starting off with TRD, the company offers several GR Parts for the subcompact SUV based on the concept of "Functional Edge style".
Those include a front bumper garnish that's said to improve the aerodynamic performance, side door garnish that looks like protective trim, as well as red/black mud flaps with the GR logo, and a sports muffler. Additional GR parts on offer include 18-inch alloys in a glossy black finish, door handle protectors, door stabilizers, sun shade, carbon license plate frame, and a luggage mat.
See Also: 2021 Toyota Harrier Gets A TRD Makeover In Japan, Will America's Venza Follow It?
Moving on to Modellista, the Yaris Cross gains two different styles that focus on enhancing the SUV's sporty, urban character. Called Advance Robust Style and Elegant Ice Style, the body kits include beefy front spoilers, side skirts, rear skirts, body-colored wheel arch cladding, and newly developed 19-inch alloys.
For the Elegant Ice Style model, Modellista also offers a roof spoiler, front grille and rear garnish, mirror and door handle garnish. There are many upgrades for the interior as well, including a panel and garnish set in chrome and Bordeaux red, additional illumination on the center console, scuff plates, LED lamps in the cabin and cargo area, a luggage wood deck, and LED illumination for the rear license plate.
Photo
Gallery