Unreliable 2001 Bmw M3 Convertible Races A… 2016 Mazda Miata?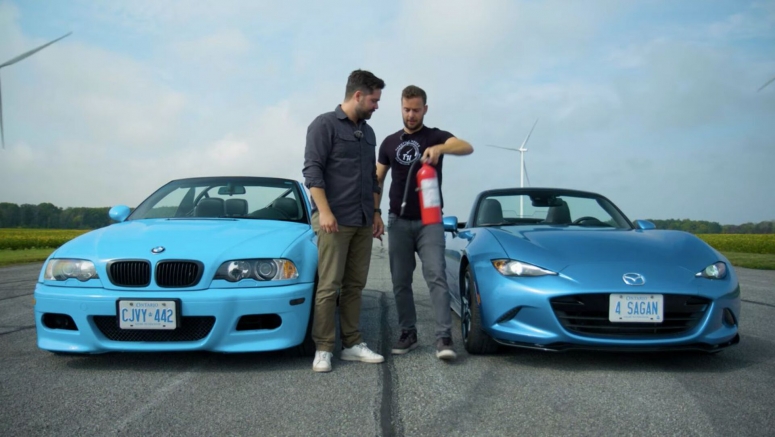 The chances of someone considering an E46 BMW M3 Convertible as an alternative to the Mazda MX-5 Miata ND (or the other way around) are virtually non existent.
Nevertheless, the folks from Throttle House decided to film a tongue-in-cheek "review" of these cars to thank their viewers for recently reaching one million subscribers on their YouTube channel. The cars featured in the video are from their own garages: Thomas' 2001 M3 Convertible and James' 2016 MX-5 Miata.
Watch Also: 1990 Vs 2019 Mazda MX-5 – Underestimate The NA At Your Own Peril, ND Owners
The only possible thing these two cars have in common, besides being convertibles with manual transmissions and rear-wheel drive, is that they're both painted blue, albeit in different hues.
The mighty E46 M3 delivers 333 HP and 262 lb-ft (355 Nm) of torque from the S54 3.2-liter naturally aspirated straight-six. The ND Miata's is a lightweight in comparison, as its 2.0-liter four-cylinder produces just 155 HP and 148 lb-ft (200 Nm) of torque. However, it is much lighter, tipping the scales at just 2,332 lbs (1,058 kg) compared to the M3 Convertible's 3,649 lbs (1,655 kg).
The BMW has more than enough power to offset the weight deficit, covering the 0-62 mph (0-100 km/h) sprint in 5.5 seconds compared to the Miata's 7.1 seconds. Considering the age of the M3 and its tendency to break, which is thoroughly documented by Thomas in the video, James reckoned his Miata stood a chance to win a quarter-mile drag race, as well as a rather unusual test the two reviewers had in mind.
So, did the M3 break, giving the Miata a chance to win? Let's watch the video and find out.