Honda Civic Type R Vs. Renault Megane R.s. Trophy Is An Extremely Close Drag Race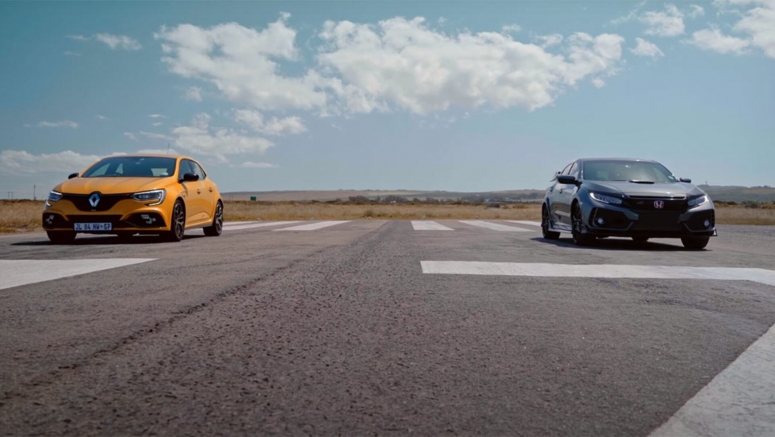 Having driven the Honda Civic Type R and Renault Megane R.S. 300 Trophy extensively, we can confidently say that these are two of the finest hot hatches currently on sale. However, which is quickest in a straight-line?
To answer that question, Cars.co.za lined up a Civic Type R and Megane R.S. 300 Trophy for a drag race. Unsurprisingly, it is exceptionally close.
First, the stats. Powering the Renault is a turbocharged 1.8-liter four-cylinder engine muscling out 296 hp and 310 lb-ft (420 Nm) of torque. Customers have a choice between a six-speed dual-clutch transmission or a six-speed manual; the example tested here had the latter.
Watch Also: Sport Auto Laps 'Ring With Renault Megane RS Trophy-R 15 Sec Slower Than Official Record Run
By comparison, the Honda features a 2.0-liter turbocharged four-cylinder with 306 hp (or 316 hp in European and Japanese guise), as well as 295 lb-ft (400 Nm) of torque. Like the Megane, it is front-wheel drive, although it is mated exclusively to a six-speed manual transmission
During the race, the driver of the Honda gets a slightly better launch and is able to keep the advantage down the rest of the runway, ultimately crossing the finish line slightly ahead of the Renault.
Of course, the Civic Type R and Megane R.S. Trophy are about much more than straight-line performance and really shine in the corners, as our reviews of the two hot hatches reveal. In the coming weeks, we'll be jumping behind the wheel of another R.S. Trophy, albeit this time one equipped with the dual-clutch transmission. Be sure to stay tuned to read the full review.