Nissan Sentra Slams Into Tesla Model 3, Causes Six - Car Pileup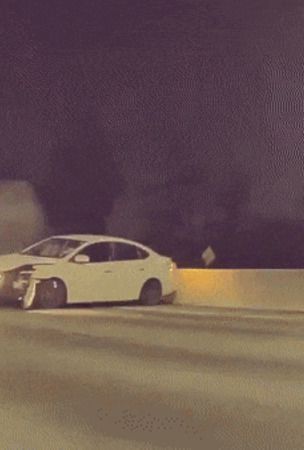 The exterior cameras of a Model 3 have captured the moment the driver of a white Nissan Sentra crashed into the EV.
In the video, the rear-facing camera of the Tesla shows the Nissan quickly approaching from behind. When it is roughly just 10-feet away from the rear of the Model 3, its driver quickly changes into the left lane to avoid rear-ending it. This sudden lane change appears to have upset the balance of the car and the driver suddenly veers to the right, hitting the rear quarter panel of the Tesla.
The force of this impact sends the Sentra spinning around before slamming hard into the concrete barrier on the side of the highway. The car spins around once more, leaving debris strewn across the road before it comes to a stop. This dashcam footage also shows the driver of the Tesla pulling over shortly after the crash.
Watch Also: This Is What Riding In The Only Tesla Model 3 Cab In New York City Looks Like
According to the Tesla driver, police who attended the scene blamed the crash on distracted driving on the part of the young individual behind the wheel of the Sentra.
Mind you, it wasn't just the Nissan and the Tesla that were involved in the incident as the debris left behind by the former apparently caused four other vehicles to get tangled up in fender benders. As for the damage sustained to the bright orange Model 3, it received some serious dents to the rear passenger door, as well as the rear quarter panel and will need fixing, while the rear left wheel is also bent.
Hard to spin a Tesla from r/teslamotors