The 2021 Lexus Lc 500 Convertible Oozes Sex Appeal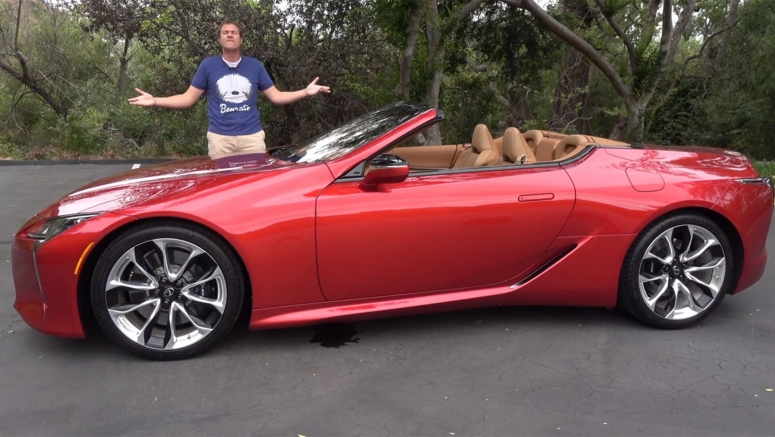 The 2021 Lexus LC 500 Convertible is one of the best-looking cars currently on sale, and in this video from Doug DeMuro, we get to hear his first take on what the car is like.
Much like the LC 500 Coupe, the Convertible is powered by a naturally-aspirated 5.0-liter V8 with 471 hp at 7,100 rpm and 398 lb-ft (539 Nm) of torque at 4,800 rpm. Naturally-aspirated V8 engines are becoming a rarity, so Lexus should be celebrated for not going down the forced induction route – at least not yet.
Coupled to the engine is a 10-speed Direct-Shift automatic transmission that allows the LC 500 Convertible to hit 60 mph (96 km/h) in 4.6 seconds and reach an electronically limited top speed of 168 mph (270 km/h).
Read More: 2021 Lexus LC 500 Convertible Arriving This Summer With $102,025 Base Price
In addition to chopping off the LC's roof, Lexus has added a new torsion box at the rear, a new suspension tower brace, and a new V-brace to improve the car's handling stability and its responsiveness. Lexus also reinforced the chassis with Laser Screw Welding and through the use of high tensile-strength steel. It also relocated various structural braces and has tweaked the suspension setup to account for the added weight.
A good portion of DeMuro's review focuses on the interior of the LC 500 Convertible and there's a good reason for that: the LC has one of the most beautiful interiors on the market. It truly is a sight to behold and having spent a week with the LC 500 Coupe last year, we know firsthand that it is indeed a very nice place to spend time in.