Toyota Teases Gr Supra Targa With Removable Top, Art Car And More For Virtual Sema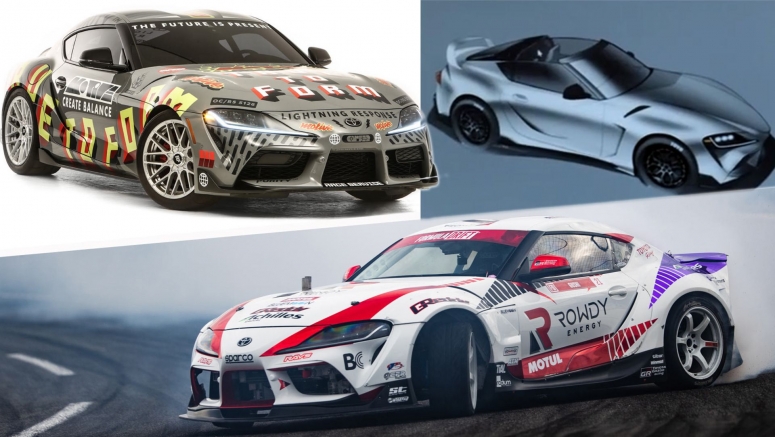 It wouldn't be SEMA without Supras, and Toyota was more than happy to oblige as the company has introduced a one-off art car.

Dubbed the Ornamental Conifer GR Supra, the model started out life as a 2021 GR Supra 3.0 Premium in Turbulence Gray and has been transformed by British artist Nicolai Sclater.
Designed to pay tribute to the lost art of sign painting and automotive graphics, the art car features slogans such as "True to Form" and "Lightning Response." There are also numerous graphics depicting everything from flames to lightning bolts.
Also Read: 2021 Toyota GR Supra Gains Entry-Level Four-Cylinder, Upgraded Inline Six
According to Toyota, Sclater used brushes and enamel paint to "meticulously" handmake every letterform and graphic. While the car will remain a one-off, Sclater plans to offer limited-edition artwork as well as "complimentary items such as shirts, key chains, air fresheners, water bottles, tote bags, and more sometime soon."
Toyota didn't mention any performance changes, so the powertrain presumably carries over. That's not necessarily a bad thing as the turbocharged 3.0-liter six-cylinder engine has been upgraded to produce 382 hp (285 kW / 387 PS) and 368 lb-ft (499 Nm) of torque for 2021.
GReddy Performance Formula D GR Supra
Besides the art car, Toyota introduced a GR Supra drifter. Built by Ken Gushi Motorsports and GReddy Performance, the car features a 3.0-liter six-cylinder engine that has been outfitted with a new turbocharger, a Sean Adriano Racing exhaust and a relocated radiator for improved cooling and balance. The model also has a 10-gallon fuel cell and a Samsonas six-speed sequential transmission.
On the styling front, the car has been equipped with a Pandem Rocket Bunny body kit, Rays wheels and an eye-catching livery.
Papadakis Formula D GR Supra
Speaking of drifting, Toyota also showcased the Papadakis Racing Rockstar Energy Drink Toyota GR Supra.  It features an upgraded six-cylinder engine that has been outfitted with a new turbocharger, massive wastegates and AEM fuel pumps.  Other highlights include forged steel connecting rods, new pistons and fuel injectors as well as a Supertech Performance valvetrain, a Full Race turbo manifold and a 3D printed aluminum intake from Mountune.
Thanks to all these changes, the engine produces a "pavement crushing" 1,033 hp (770 kW / 1,047 PS) and 908 lb-ft (1,231 Nm) of torque.
Supra Sport Top
Last but not least, Toyota released a teaser video for an upcoming Supra that has a removable roof. Known as the GR Supra Sport Top, the model will have a two-piece composite roof which can be removed and stored in the trunk. The car will also have a large rear wing and an upgraded structure to ensure rigidity is maintained even without the roof.
Photo
Gallery