2020 Toyota Avalon Vs. 2019 Vw Arteon: They Cost The Same, So Which Would You Rather Have?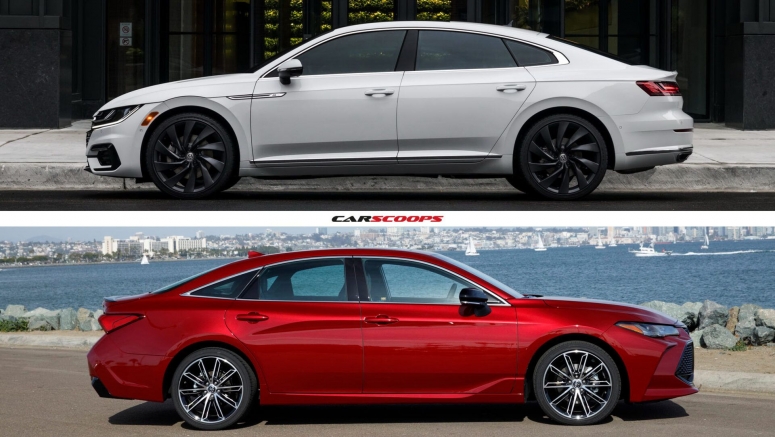 Before you point out that the car industry doesn't see the Toyota Avalon and the VW Arteon as direct rivals, just ask yourself this: Are they really all that different?

Their dimensions are somewhat similar, and their starting MSRPs are downright identical. Furthermore, both feature dynamic-looking styling, and are generally regarded as "nearly-premium" products thanks to their strong build quality and high-spec interiors.
The Arteon only began arriving in U.S. dealerships in April of last year, while the redesigned fifth-gen Avalon went on sale in May of 2018, and had a four month head start to 2019. Still, that's not why the Avalon sold over 10 times better than the Arteon. In fact, we reckon that the typical Avalon buyer probably didn't even know what to make of the VW flagship when it was first announced.
Read Also: Would You Take The 2021 Audi A3 Sedan Over Its Rivals From Mercedes And BMW?
One is described specifically as being a full-size four-door sedan, whereas the other one is a four-door fastback, though we all know that all too often, automakers come up with marketing fluff to make their products stand out from the rest (from "4-door coupes" to "SAVs" and everything in-between). As such, one is marketed as your typical family car while the other is something you buy when you want to make some type of style-oriented statement.
Then again, these are just marketing terms and kind of a superficial take on the matter, if we're being honest. The Arteon should do fine as a family car too, thanks to its overall size and practical body shape. It also has a regular backseat, so it can fit five adults. And yes, the Avalon has a raised tunnel too, so the middle rear-seat passenger wouldn't be particularly more comfortable in the Toyota, which by the way isn't as wide as the Arteon.
Let's run through the dimensions. The fifth-gen Toyota Avalon is 196 inches (4,980 mm) long, 72.8 inches (1,850 mm) wide and 56.5 inches (1,440 mm) tall, with a 113-inch (2,870 mm) wheelbase. The VW Arteon on the other hand measures 191.5 inches (4.864 mm) in length, 73.6 inches (1,869 mm) in width, stands 57 inches (1,448) tall and has a 111.9 inch long (2,842 mm) wheelbase.
So the V-Dub is wider and taller and its wheelbase is shorter by precisely 1 inch (2.54 cm). The difference in length isn't all that relevant given how the two are styled.
In one corner, we have the entry-level 2020 Avalon XLE costing upwards of $35,875, while in the other, the 2019 Arteon SE is priced from $35,995.
With the Avalon you get the 9-inch touchscreen display as standard with Apple CarPlay, LED headlights and taillights, 17-inch wheels, dual zone climate control, integrated backup camera, Full-Speed Range Dynamic Radar Cruise Control, push-button start, four USB charge ports, Toyota Safety Sense, Blind Spot Monitoring, Intelligent Clearance Sonar with Rear Cross-Traffic Braking and quite a bit more, all at no extra cost.
Power meanwhile comes from a 3.5-liter V6 VVT-i engine, putting down 301 HP (305 PS) and 267 lb-ft (362 Nm) of torque with the help of an 8-speed automatic gearbox. It needs roughly 6.0 seconds to get you from zero to 60 mph (96 km/h), which is not at all bad.
Now let's see if the Arteon can keep up as far as specs and performance are concerned. Standard features include 18-inch alloy wheels, LED headlights and taillights, chrome grille, frameless side windows (always a nice touch), heated leatherette seats, 12-way power front seats with 4-way lumbar support, push-button start, three-zone climate control, rear-view camera, rain-sensing wipers, plus an 8.0-inch infotainment display with two USB ports and Apple CarPlay and Android Auto.
The VW is also well equipped when it comes to active safety tech. It's got Forward Collision Warning, Autonomous Emergency Braking (Front Assist), Side Assist and Rear Traffic Alert, all at no extra cost.
The Arteon gets its grunt from a 2.0-liter turbocharged TSI unit, producing 268 HP (272 PS) and 258 lb-ft (350 Nm) of torque. With the aid of a standard 8-speed automatic, it will get from zero to 60 mph (96 km/h) in 6.3 seconds, and that's without the optional 4Motion all-wheel drive system.
So while we can always argue about how the Avalon is also available as a Hybrid and the Arteon isn't, the fact of the matter is that if your goal is to simply buy a large family car for $35k, there are way more similarities between these two nameplates than there are differences, if you look hard enough.
Volkswagen made a conscious decision to market the Arteon as somewhat of a premium product, not just in the United States, but globally. In fact, if you go on their website right now and click on the range, you'll see that underneath Arteon, it says "The premium sport sedan". Yikes!
So if you're a Toyota Avalon buyer and you're curious to see if VW might have any alternatives for you, what are the chances you'll actually click to further explore the Arteon? The term 'premium' might be a turn off right there and then if you're worried about maintenance costs. Then you've got 'Sports Sedan' – and the Arteon is neither sporty, nor a sedan. The way it's phrased makes it seem like some type of BMW 4-Series Gran Coupe rival.
In reality, the stylish V-Dub actually works really well as an alternative to the Toyota Avalon, Nissan Maxima and the rest of the full-size 4-door sedan segment. Does that mean it's the better choice? Here's where you come in, so let us know which one you'd rather have parked in your driveway.