Tuned 2020 Toyota Supra Picks A Fight With Stock Bmw M4, Let The Games Begin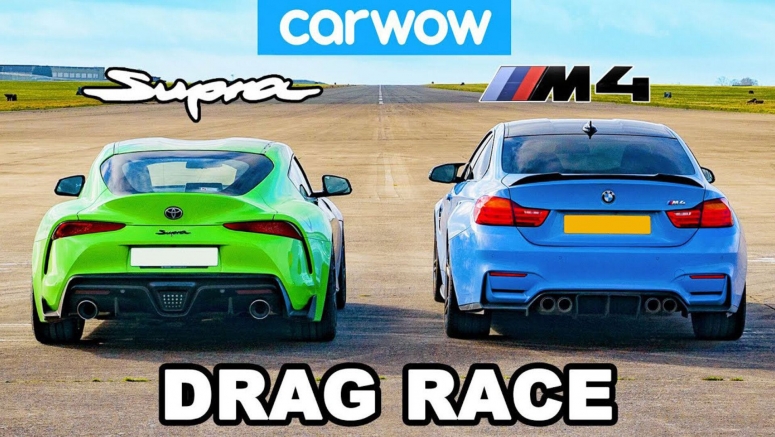 The new-gen Toyota Supra may have BMW blood running through its veins, but that's not enough to pose a threat to the M4 Coupe in stock form. Add a few aftermarket parts though, and the scale starts tipping, but is that enough?

Well, it depends, Besides the custom wrap and a few other cosmetic items, this 2020 GR Supra featured in CarWows' latest race sports a new air intake, exhaust system and ECU tune. It was modified by Evolve Automotive and boasts $6,200 worth of upgrades, including around $2,500 in making the 3.0-liter turbo-six more powerful.
Video: Explore The Differences Between The 2021 Toyota Supra 2.0 And 3.0
The result is 434 HP (440 PS / 324 kW) and 500 lb-ft (678 Nm) of torque, up from the standard 2020MY's 335 HP (340 PS / 250 kW) and 365 lb-ft (495 Nm). The 0-60 mph (0-96 km/h) sprint has likely dropped to or under 4 seconds, given that the stock Supra takes 4.1 seconds, and the speed limiter has been removed so it will max out at more than 155 mph (250 km/h).
The M4 Coupe also packs a 3.0-liter straight-six engine, albeit with two turbos and 425 HP (431 PS / 317 kW) and 406 lb-ft (550 Nm). With the seven-speed auto, it sprints to 60 mph (96 km/h) in 3.9 seconds, while selecting the manual gearbox will lower the time by 0.2 seconds. Top speed is limited to 155 mph (250 km/h), or 174 mph (280 km/h) with the M Driver's Package.
With the new parts installed, the Supra has the numbers on its side, but is it actually faster than the sports coupe from BMW? We can tell you that it ran the quarter mile in 12.3 seconds and that it was subjected to a couple of rolling races and a brake test against the M4 Coupe, but other than that, you know what to do to find out.