Kumamoto Castle's Fortified Curved Stone Walls Rise Again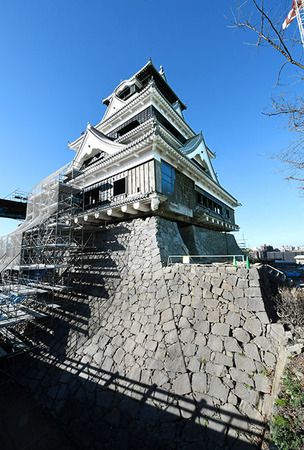 KUMAMOTO--Curved stone walls at Kumamoto Castle that once thwarted enemy attackers but fell victim to earthquakes that jolted the city in April 2016 have risen again to their full glory.
The new walls were unveiled to the media on Dec. 27, as progress is being steadily made in the castle's restoration.
The unique shape of the so-called "musha-gaeshi" stone walls, which are the foundation of the six-story main keep, had been designed in a manner as to the higher they are, the steeper the angle. They have been completely restored.
The temblors dislodged 791 stones that were used for the main keep. A project team tasked with rebuilding tried to use as many of the original ones as possible in the restoration. But stonemasons were forced to create 120 new ones to fill in gaps as many of the original ones were broken up and rendered unusable.
Reconstruction workers are scheduled to start to reassemble about 2,400 stones for the secondary tower of the castle next to the main one from January.
The Kumamoto municipal government, a host of the 2019 Rugby World Cup, intends to allow public access to the vicinity of the main castle for a limited period from Oct. 5. That will allow visitors to the major sporting event along with residents to enjoy viewing the resilient nature of the castle from up close.
"Our construction efforts toward the exhibition that is scheduled for October are now going smoothly," said Tatsuo Nomoto, vice director of the city's administrative office in charge of the castle. "We are looking forward to having a wide variety of people take a closer look at the shape of Kumamoto Castle."
The public will also be allowed to see the restored castle under construction from spring 2020, along a 350-meter-long exclusive path, including an elevator, which will be constructed under the 1.8 billion yen ($16.3 million) budget.
"We want people to warmly keep watching (our project team's efforts) as we still have a long way to go (until the castle has been completely restored)," Nomoto added.