Govt. Holds Memorial For Former Leprosy Patients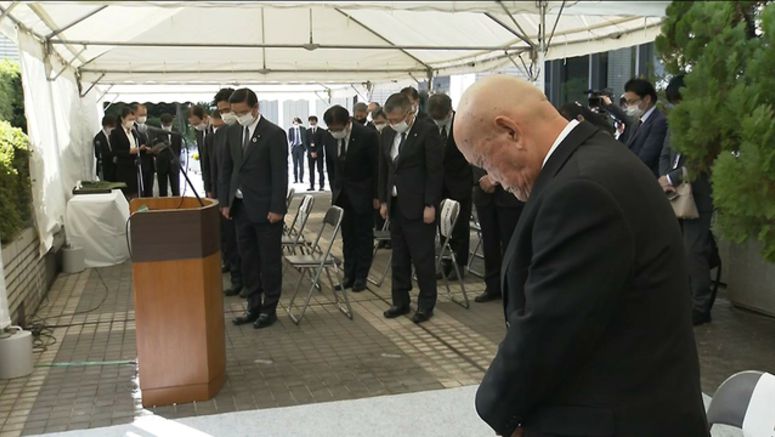 A memorial ceremony has been held in Tokyo for former leprosy patients who died after years of discrimination.
The Japanese government organizes the annual event that is usually held on June 22.
The law to compensate patients with the illness, which is also known as Hansen's disease, was put in force on that day. The patients were forcibly separated from their families and sent to sanatoriums.
This year's ceremony was postponed and scaled down because of the coronavirus outbreak.
About 20 people, including former patients and their family members, attended the ceremony that was held in front of the health ministry's entrance on Thursday.
In a message, read by his deputy, health minister Tamura Norihisa apologized for the suffering caused by the now-defunct segregation policy that restricted the human rights of former patients and exposed them to discrimination.
The minister said the government should take seriously the fact that the policy prevented the patients from leading peaceful lives.
Huang Guang-nan said on behalf of the patients' families that he wants the government to reaffirm its apology every year in this place.
The government began forcibly sending Hansen's disease patients to isolation facilities in 1907. This policy was maintained until 1996, even after it became clear that the disease was not highly infectious.
A number of patients died after years of discrimination.
The health ministry says that as of May this year, 1,090 former patients were still living in state-run sanatoriums because they had no relatives or for other reasons.
A former patient, Tateyama Isao, said after the ceremony that prejudice and discrimination still exist in society, and he will continue to speak out on behalf of the former patients until he dies.
Last year, the government introduced a framework to offer relief payments to family members of former leprosy patients, as they also suffered prejudice and discrimination.
More than 5,100 people have received the payments.