0.4% Positive Rate In Softbank Group Antibody Test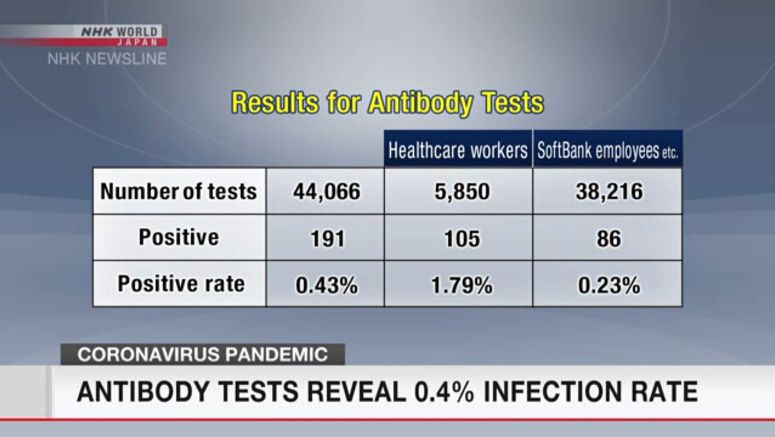 Japanese business giant SoftBank Group found about 0.4 percent of people tested positive for coronavirus antibodies in a survey it conducted. Having antibodies means that the person has contracted the virus in the past.
The group released the preliminary results of the survey in a live-streamed event on Tuesday.
It conducted 44,066 tests on its employees, business partners and healthcare workers between mid-May and Monday.
It says 191 people, or 0.43 percent tested positive. The positive rate among 5,850 healthcare workers was 1.79 percent, while that for the rest was 0.23 percent.
Antibody tests are deemed not very accurate and it remains unknown whether people with antibodies can be infected with the coronavirus again.
But the tests are believed to be useful in giving an idea of how far the virus has spread in a community.
Ohmagari Norio of the National Center for Global Health and Medicine said in the event that the top priority is to enable people showing symptoms to get tested for the virus swiftly to prepare for a possible second wave of infection.
The Japanese health ministry has started antibody tests on about 10,000 people.