A - Bomb Dome Preservation Work Begins In Hiroshima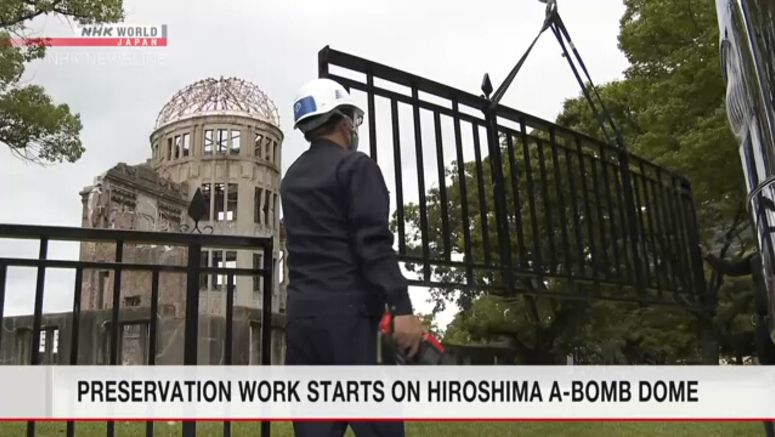 Preservation work on the Hiroshima Peace Memorial, also known as the Atomic Bomb Dome, started on Thursday after a delay of more than one year.
The structure in the city of Hiroshima was built more than 100 years ago. It survived the 1945 US atomic bombing.
City officials had initially planned to begin the preservation work in fiscal 2018. Three attempts were made to find a contractor, but the bidding process could not be completed. This was partly due to a shortage of workers in the construction industry. The selection of the contractor was finally announced in June.
On Thursday, four workers were seen removing fences around the Dome and putting up notices about the start of the project.
Workers will erect scaffolding and manually remove the rust from the arched ceiling and other parts of the building. They will repaint the structure in dark brown --the color it had right after the atomic bombing.
Mortar joints between bricks will also be reinforced. The preservation work is scheduled to be completed by the end of next March.
A Hiroshima city official said the repainting work is aimed at reminding people about the reality of the atomic bombing. The official added that the structure should be preserved appropriately to inform future generations about the tragedy.