Abductees' Relatives Mourn Mother's Death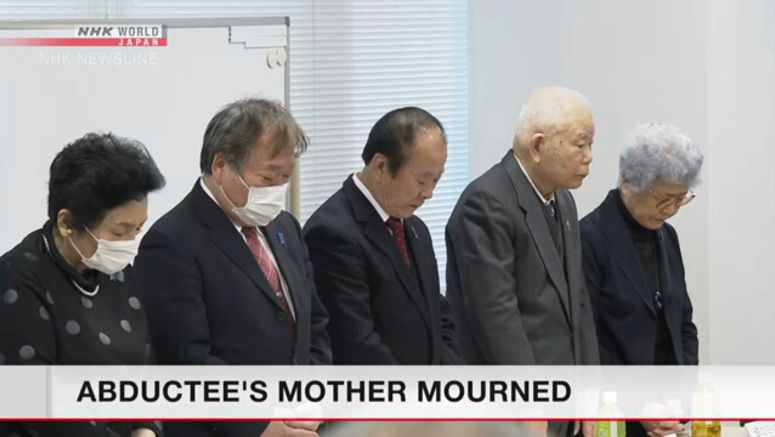 Relatives of Japanese nationals abducted by North Korea and their supporters have mourned the death of the mother of abductee Keiko Arimoto.
Kayoko Arimoto died at the age of 94 on Monday.
The first gathering since her death was held in Tokyo on Sunday.
Sakie Yokota, the mother of abductee Megumi Yokota, said Arimoto has left behind a huge legacy, and she sympathizes greatly because her own husband has been in hospital.
Yokota said she will do all she can until she feels she has completely exhausted her efforts.
Arimoto's husband, Akihiro, said he doesn't want to talk about his wife, as he cannot hold back his tears.
He strongly urged the Japanese government to achieve the return of the abductees as soon as possible, saying the task rests on Prime Minister Shinzo Abe's shoulders.
Shigeo Iizuka, the head of the relatives' group and the brother of abductee Yaeko Taguchi, said the government should not just sit and wait but think about how it can create a chance to get the abductees back.
After offering silent prayers for Kayoko Arimoto, the participants adopted an action plan for this year.
They will continue to call on North Korean leader Kim Jong Un to return all the abductees as soon as possible. They will also urge the Japanese government to work more proactively while not compromising on the goal of getting back all the abductees.