Abe Heads Home After Middle East Tour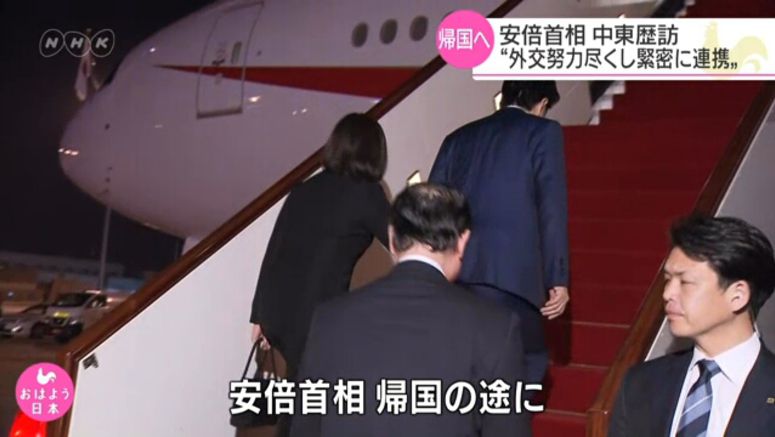 Prime Minister Shinzo Abe is returning to Japan from a three-nation Middle East tour. He agreed with the leaders of these countries that dialogue will be crucial for stabilizing the region and de-escalating tensions.
Abe left Oman, the final leg of his tour, early Wednesday morning. His itinerary also included Saudi Arabia and the United Arab Emirates.
He agreed with Saudi Crown Prince Mohammed bin Salman that all the countries concerned should join hands to achieve their objectives.
Abe and Abu Dhabi Crown Prince Sheikh Mohamed bin Zayed Al Nahyan agreed on the importance of diplomatic efforts. The two leaders also reaffirmed that they will closely work with Saudi Arabia.
Abe and Oman's leaders agreed that regional issues should be resolved through dialogue. The Gulf state maintains good relations with Iran.
Abe told the Middle Eastern leaders that Japan's dispatch of a Self-Defense Force mission to the region is aimed at ensuring the safe navigation of Japan-related vessels.
The three nations expressed their support for the dispatch. Oman showed its willingness to accept Japan's plan to set up a supply station for the mission in the country.