Abe Thanks Public In Farewell Statement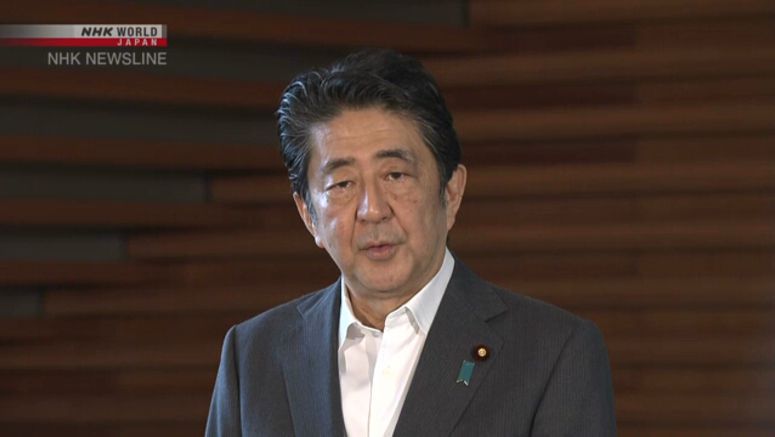 Outgoing Japanese Prime Minister Abe Shinzo has expressed his gratitude to the public, issuing a statement as his cabinet resigned on Wednesday.
Reflecting on his nearly eight years in office, he said he has made all-out efforts to address both domestic and diplomatic challenges during his term. He said some of the goals were achieved, while many others were unfortunately not.
He said he did his utmost to rebuild the northeastern Tohoku region after the 2011 earthquake, tsunami and nuclear disasters.
He also said he tackled deflation that continued for more than two decades. Using the "three arrows" of his economic policy known as Abenomics -- monetary policy, fiscal policy and structural reform -- he said he succeeded in creating more than four million jobs.
He added that by making use of the fruit of that growth, he made day care centers more affordable for working parents and also expanded free education.
On the diplomatic and security front, Abe said he enacted the security legislation that enables the country to partially exercise its right to collective self-defense and helped strengthen Japan's security alliance with its partners.
He added that he worked to realize the free and open Indo-Pacific under his policy of proactive contribution to peace.
He boasted of playing a major role in expanding the economic sphere based on free and fair trade. He mentioned the Trans-Pacific Partnership free trade agreement, the Economic Partnership Agreement with the European Union and the new Japan-US trade agreement, among others.
Abe attributed those achievements to Japanese voters who he said gave him a strong mandate at every general election in which he was involved. He thanked all those people who offered steady support to him even during tough times.
The statement concluded with his request for the Japanese public to offer strong support to his successor and the incoming cabinet. Abe said he will support Japan's new leadership as a lawmaker and continue to work for the future of Japan.