Abe Urged To Decide On Emergency Declaration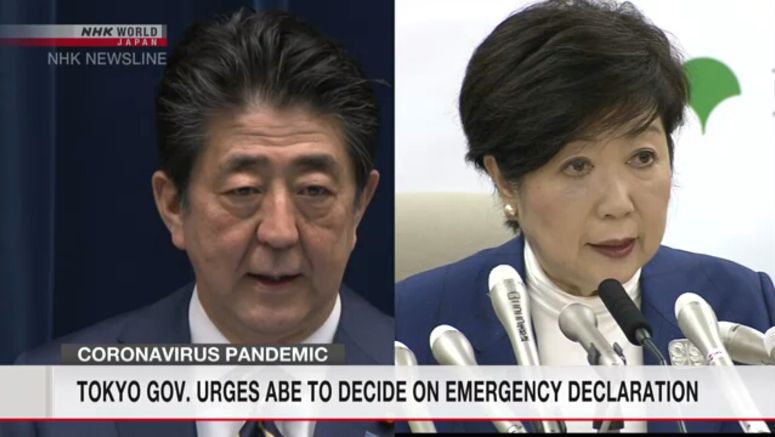 The number of confirmed coronavirus cases continues to rise in the Japanese capital. Tokyo officials say there were 78 new cases on Tuesday.... bringing the total in the capital to more than 500.
Tokyo Governor Koike Yuriko met Prime Minister Abe Shinzo on Tuesday to discuss the situation.
Koike said she wants Abe to use Tokyo as a reference for deciding whether to declare a state of emergency.
Koike said, "Tokyo is on the brink of an explosive increase of infections. We are trying to prevent a situation like that , and trying to prevent further spread on various levels. A decision by the state is needed now."
There are more than 2,100 confirmed cases across Japan....not including 712 cases from the Diamond Princess cruise ship.
A total of 77 people have died, including 11 from the cruise ship.
One of the main concerns among officials is the coronavirus spreading through cluster infections.
One such case is three university students who returned to Japan from Europe on March 14 and have tested positive for the virus.
They likely spread the virus to more than 20 people across nine prefectures by attending gatherings and travelling to their hometowns for spring break.
The rising concerns are compelling large companies to encourage their employees to work remotely so they avoid rush hour commutes.
Prime Minister Abe says he wants cabinet ministers to consider easing regulations to make it easier for companies to adapt to the shifting circumstances.
Abe said, "We will protect employment, household finance and businesses, and boost demand. We are committed to using the challenge we are facing to promote social reforms, such as further digitalization."