Abe Visits Oman, Offers Condolences For Sultan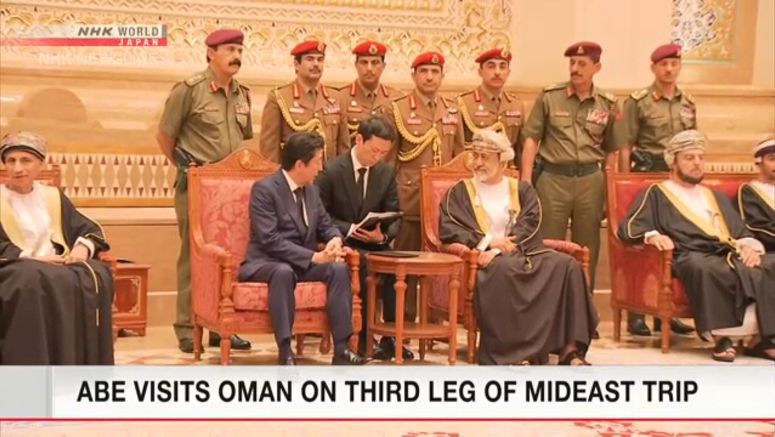 Japanese Prime Minister Shinzo Abe, now visiting Oman, has offered his condolences for the sultan who died last week.
Abe arrived in the Omani capital of Muscat on Tuesday on the last leg of his three-nation tour of the Middle East.
He met with new Sultan Haitham bin Tariq al-Said, and expressed his deep sorrow on behalf of the Japanese government and people.
Sultan Qaboos bin Said, who ruled the Gulf state for nearly 50 years, died on Friday.
During his visit to Saudi Arabia, Abe met with King Salman bin Abdulaziz and Crown Prince Mohammed bin Salman.
Abe agreed with the crown prince on the importance of dialogue and the need for relevant countries to cooperate to achieve regional stability and ease tensions.
In the United Arab Emirates, Abe had talks with Abu Dhabi Crown Prince Sheikh Mohamed bin Zayed Al Nahyan. They agreed that Japan and the UAE should maintain close contacts with other nations, including Saudi Arabia.
In the series of talks, Abe explained that Japan is sending its Self-Defense Forces to the Middle East to gather intelligence to ensure the safe navigation of Japan-related ships. He says he won the support and cooperation of both Saudi Arabia and the UAE.