Abe Vows To Stand By Atomic Bomb Survivors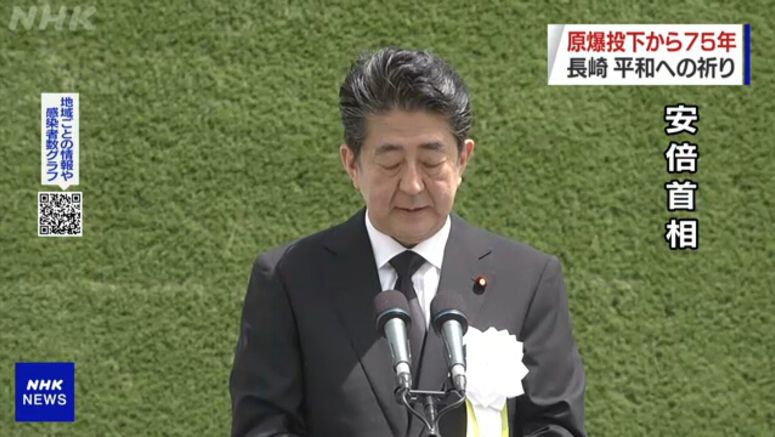 Japanese Prime Minister Abe Shinzo pledged to stand by aging atomic bomb survivors in his speech during a ceremony marking 75 years since the atomic bombing of Nagasaki.
Abe gave the address at the Peace Park in the southwestern Japanese city on Sunday. Japan also marked the 75th anniversary of the atomic bombing of Hiroshima on Thursday.
Abe promised to take seriously survivors' need for support in healthcare, medicine and welfare. He vowed to "stand by those advancing in age by strengthening comprehensive relief measures, such as screenings to recognize atomic bomb illnesses as swiftly as possible."
Abe said people are making great efforts to overcome the coronavirus pandemic. He said the fact that Nagasaki recovered so beautifully from the atomic bombing through the efforts of its citizens is a strong reminder that there is nothing that cannot be overcome and that peace is very precious.
Abe also said Japan will continue adhering to the Three Non-Nuclear Principles. The policy means not possessing, producing, or permitting the introduction of nuclear weapons to the Japanese land.
The prime minister said Japan "will serve as a bridge between countries that take different stands" on nuclear disarmament. He said Japan will also "persist in urging dialogue and promoting them into action."
Abe said 2020 marks 50 years since the Treaty on the Non-Proliferation of Nuclear Weapons took effect.
He said it is important for the upcoming NPT Review Conference to produce meaningful results for the treaty to continue serving as a foundation for an international framework on nuclear disarmament and non-proliferation.
Abe said "Japan will appeal to other nations to continue their unified efforts" and "will keep making proactive contributions."
Abe said, "The firm steps toward realizing 'a world without nuclear weapons' are sustained by efforts to hand down across generations and borders the horrific and inhumane nature of using nuclear weapons."
He said Japan "will join hands with the atomic bomb survivors and continue efforts to enhance understanding about the realities of the atomic bombing."