Akimoto Faces New Arrest Warrant For Bribery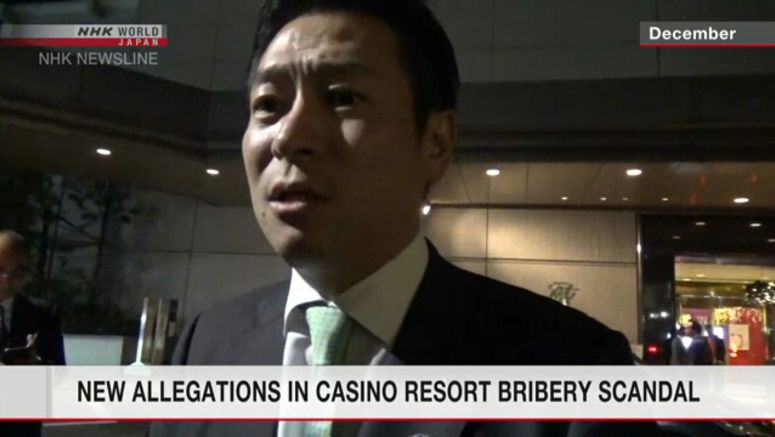 Tokyo prosecutors have obtained a fresh arrest warrant for a lawmaker over new bribery allegations involving casino resorts.
Lower House member Tsukasa Akimoto was arrested last month on suspicion of receiving about 27,000 dollars from a Chinese firm called 500.com in 2017.
At the time, Akimoto was a Cabinet Office state minister in charge of integrated resorts, which includes casinos. 500.com was seeking to enter the resort business.
Akimoto was arrested again on Tuesday along with Masahiko Konno and Katsunori Nakazato, former advisors to 500.com, and Zheng Xi, a former executive of the firm's Japanese arm.
Prosecutors say Akimoto is suspected of having 500.com cover 13,000 dollars' worth of travel expenses when he visited a casino in Macao on a private jet in December 2017.
He is also suspected of having received about 18,000 dollars for giving a lecture at a symposium hosted by the firm in Okinawa in September of that year.
A political funds report from Akimoto's support group says roughly 23,000 dollars in travel expenses were paid to a Hong Kong-based company linked to a former advisor to 500.com. But it appears the payment was not actually made.
Also on Tuesday, prosecutors indicted Akimoto on suspicion of receiving about 27,000 dollars in cash from 500.com in September 2017, and of having the firm cover about 7,000 dollars for a family trip to Hokkaido in February 2018.
Prosecutors also indicted without arrest Kimihito Kamori, the chairman of a Sapporo-based tourist agency that allegedly shouldered part of the cost for the family trip.
The tourist agency, Kamori Kanko, had been aiming to enter the resort business along with 500.com.
In addition, prosecutors indicted Konno and Zheng on suspicion of smuggling about 136,000 dollars in cash into Japan in September 2017.
Investigators suspect some of the cash was used as bribes and that the total could top 63,000 dollars.
Akimoto is said to be denying all allegations.