Awa Odori Test - Staged With Social Distancing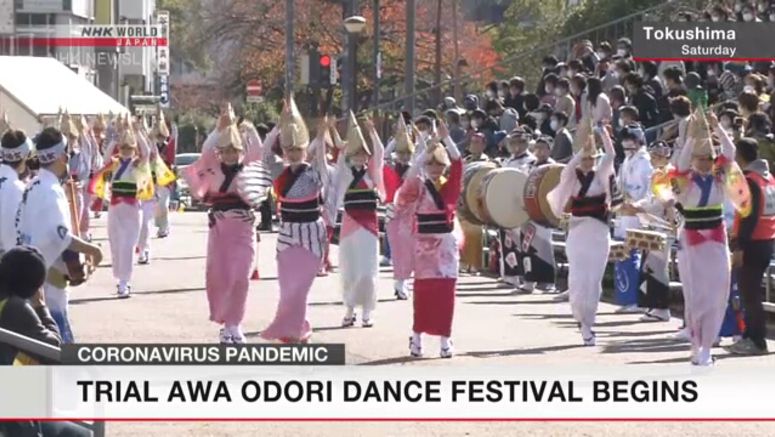 Holding a large festival may not be a wise idea during the coronavirus pandemic. But organizers of one of Japan's traditional festivals are test-staging the event, with ample social distancing.
The centuries' old Awa Odori dance festival in Tokushima City, western Japan, normally draws large crowds, eager to get a close view of a parade of energetic performers. The event was canceled this past summer, but organizers are hoping to stage the event next year.
Various infection-prevention measures were in place in the trial that began on Saturday. Stands that have a capacity of 900 were installed in a park, with all of the seats kept apart to ensure social distancing. Admission took place using digital tickets.
The dancers, wearing face guards, also kept a distance from each other as they performed to "shamisen" strings and flutes.
Although closely packed dancing is the trademark of Awa Odori, the spectators didn't seem to mind the change and were enjoying the dynamic performance.
Organizers are hoping that the festival can be held for four straight days as usual next summer.
Tokushima Mayor Naito Sawako, who heads the organizing committee, said guidelines should be drawn up to stage the festival under a "new normal." She said she hopes a successful Awa Odori will become a model for other festivals.