China Ships Making Complicated Moves Off Senkakus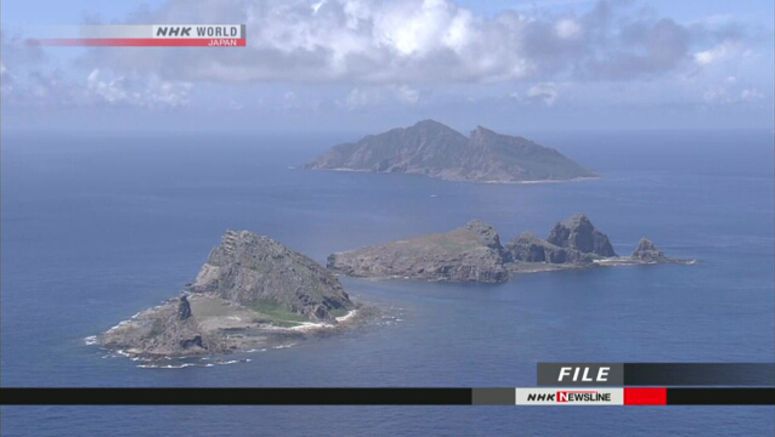 Data obtained by NHK show that Chinese patrol ships have repeatedly made complicated movements in waters off the Senkaku Islands in Okinawa Prefecture, forcing Japan Coast Guard vessels to deal with them with increased difficulty.
Chinese government ships sailed in Japan's territorial waters off the islands in the East China Sea or the contiguous zone just outside the waters for 300 days this year as of Thursday, renewing a record high.
Japan controls the islands. China and Taiwan claim them. The Japanese government maintains that the islands are an inherent part of Japan's territory in terms of history and international law, and that there is no issue of sovereignty to be resolved over them.
NHK has obtained and analyzed tracking data of Chinese ships when they chased Japanese fishing boats off the islands twice, in July and October.
In early July, two Chinese ships entered the territorial waters and approached a Japanese fishing boat operating there. The two ships apparently followed it around and stayed in the waters for a total of nearly 70 hours over four days. Japanese patrol vessels guarded the fishing boat.
Around that time, two more Chinese ships were sailing in the contiguous zone. They too initially appeared to be chasing the fishing boat, but suddenly turned back and navigated back and forth in the waters.
The movements of the two pairs of Chinese ships forced Japanese Coast Guard vessels to divide into two groups to cope with them.
In October, two Chinese vessels almost simultaneously entered the territorial waters, apparently following a Japanese fishing boat. They continued to stay near the boat operating in the waters.
The two Chinese ships left the waters more than 57 hours later, after the longest-ever continued intrusion of its kind.
At that time, two more Chinese ships were sailing back and forth in the contiguous zone.
In the past, four Chinese patrol ships often navigated as a group in waters off the islands. But sources close to Japan's Coast Guard say Japanese vessels have recently often had to deal with Chinese ships simultaneously in multiple places. They also say Chinese ships are making unpredictable moves, as if testing Japanese responses.