China's Foreign Minister Visiting Japan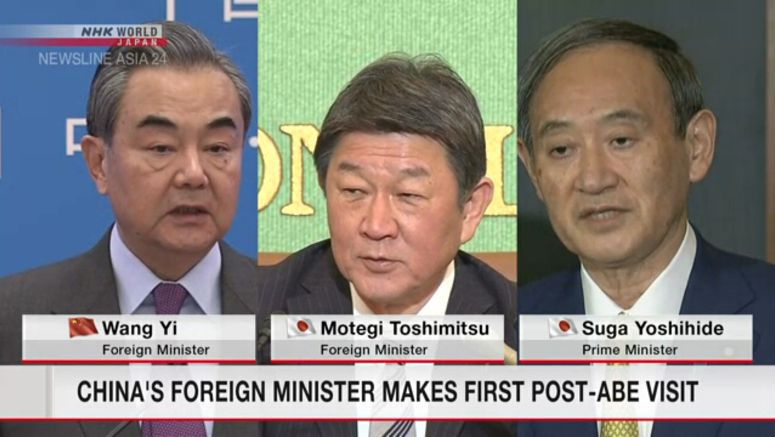 Chinese Foreign Minister Wang Yi is arriving in Japan on Tuesday for talks with his counterpart Motegi Toshimitsu. He is also expected to meet Prime Minister Suga Yoshihide the following day.
This will be the first time since the launch of Suga's Cabinet that a high-ranking official from China is coming to Japan.
Tokyo expects to discuss measures to control the coronavirus pandemic, plans to resume travel by businesspeople between the two countries, and international circumstances with the recent US presidential election in mind.
Japan also wants to reaffirm with China the importance of high-level communication between the countries in order to build stable bilateral ties.
The Japanese side also plans to express concerns over China's maritime activities and its tightened control on Hong Kong.
Chinese vessels have repeatedly intruded into Japan's territorial waters off the Senkaku Islands in Okinawa Prefecture.
Japan controls the islands. The Japanese government maintains the islands are an inherent part of Japan's territory. China and Taiwan claim them.
A Beijing-based academic has described the Tokyo visit of Wang as a potential step towards easing bilateral tensions.
Professor Lu Yaodong, from the Institute of Japanese Studies at the Chinese Academy of Social Sciences, discussed the visit with NHK.
Lu said the development of economic relations between the world's second and third largest economies could lead to easing bilateral tensions on politics and security.
Lu, whose institute is affiliated with the Chinese government, added that high on the agenda will be an early conclusion of free trade agreements between Japan, China and South Korea.
Wang's visit comes after 15 nations signed the Regional Comprehensive Economic Partnership, or RCEP, earlier this month.
An NHK correspondent says Wang's visit to Japan, a key US ally, may also be aimed at eroding a US-led encirclement of China, as conflicts between China and the US intensify.