Commemorative Flight Near Northern Territories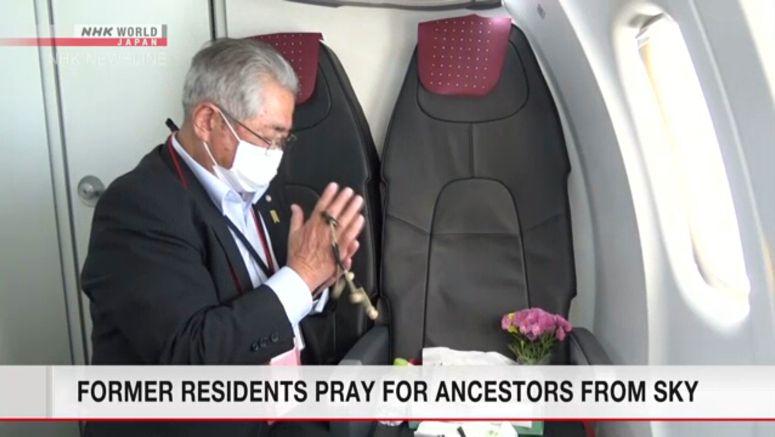 A plane flew over coastal areas of eastern Hokkaido on Wednesday carrying 30 Japanese people who were praying for the souls of ancestors buried on Russian-controlled islands claimed by Japan.
The flight was arranged after the coronavirus pandemic led to the cancellation of programs to allow trips to the islands without visas and to visit ancestors' graves there.
The chartered plane carrying former islanders and their families left Nakashibetsu Airport in Hokkaido on Wednesday morning.
The 30 passengers were the first group among 127 people taking part in five flights on Wednesday and Sunday.
The plane flew for about one hour, allowing its passengers to have a view of Kunashiri Island and the Habomai Islands.
During a ceremony held at the airport ahead of the flight, Hokkaido Governor Suzuki Naomichi said he wants the flights to create momentum and raise public awareness toward resolving the territorial issue.
He said he hopes the flights will offer the participants opportunities to remember their ancestors.
One of the members of the first group, Tokuno Hiroshi, is a former resident of Shikotan Island. He said he was very glad that he could see the islands thanks to the fine weather. He said he felt that the islands are a great place.
Russia controls the four islands of Habomai, Shikotan, Kunashiri and Etorofu. Japan claims them. The Japanese government maintains the islands are an inherent part of Japan's territory. It says the islands were illegally occupied after World War Two.