Coronavirus Infections In Japan Exceed 5,000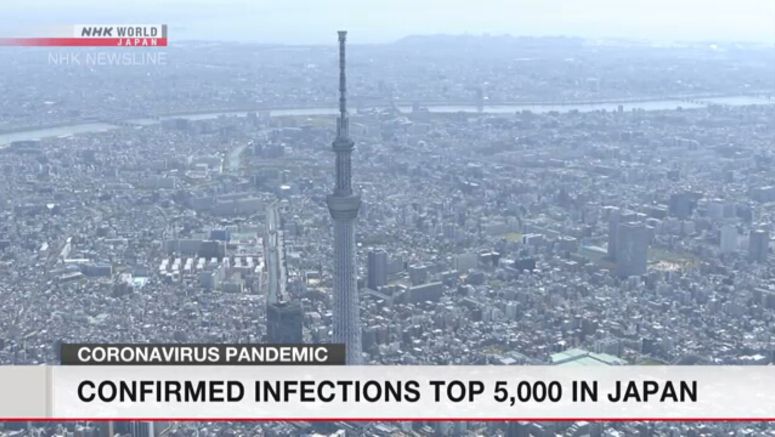 The number of confirmed coronavirus infections in Tokyo and other areas has soared, pushing the total in Japan to more than 5,000.
As of 5:50 p.m. on Thursday, 320 new cases were reported, bringing the total to 5,292. The figure includes 14 people who returned from China on chartered planes. The figure also includes 96 people who are health ministry and quarantine officials, or were found to have the virus during arrival checks at airports, and other people.
The addition of the 712 cases from the Diamond Princess cruise ship brings the tally to 6,004.
The death toll stands at 117. That includes 11 from the ship.
By prefecture, Tokyo tops the list of infections with 1,519. The nation's capital saw 181 new cases on Thursday. That is a new one-day record.
Osaka is second with 524, followed by Kanagawa with 372, Chiba with 354, Aichi with 280, Hyogo with 267, Saitama with 254, Hokkaido with 225 and Fukuoka with 224.
Health ministry officials say that, as of Wednesday, 107 people were in serious condition, including eight from the cruise ship.
The officials say 1,270 people had recovered and left hospitals as of Wednesday. Of those people, 632 were diagnosed in Japan, while 638 were infected on the cruise ship.