Daily Cases In Japan Remain At Record High Level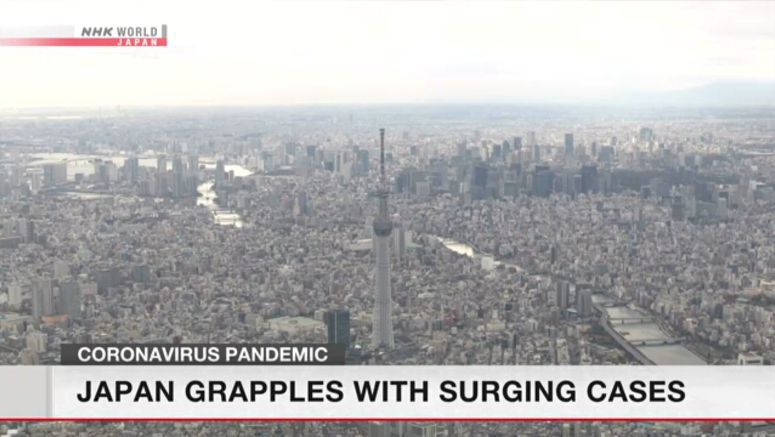 In Japan, coronavirus cases continue to climb --- at the end of a three-week period dubbed "crucial" to containment efforts.
Officials say the national tally for Wednesday is around 3,000 --- making it the second worst day on record.
More than 188,000 people have now tested positive in Japan.
A record 618 are in serious condition across the country.
Tokyo saw more new cases than ever before: 678. Total infections in the capital have surpassed 48,000.
Tokyo opened a new facility dedicated to COVID-19 patients on Wednesday that will focus on non-serious cases.
It specializes in treating patients who can't speak Japanese, and the elderly... a population that's recently seen a surge in cases. The facility has 100 beds.
For now, officials plan to run at about a third capacity... and bring in new staff as needed.
The central government has stepped up anti-virus measures over the past three weeks.
Authorities are asking people in hard-hit areas to stay home as much as possible... and bars and restaurants to close early. But the total of weekly new cases and deaths have been rising.
Chief Cabinet Secretary Kato Katsunobu said, "We will continue to work closely with local governments and assist their efforts to contain the infection based on the situation in each area. We also want to ask everyone to thoroughly take basic anti-infection measures."
Meanwhile, Prime Minister Suga Yoshihide has been criticized for dining in a large group --- even as his government urged residents to limit meals to fewer than five people.
Azumi Jun of the Constitutional Democratic Party said, "He enjoyed a luxurious steak dinner with seven others, while people are being asked to refrain from group dining. I don't think people will want to listen to what he says or support him anymore."
Reporters later confronted Suga about the issue.
Suga said, "We maintained a sufficient distance from each other. But I regret that my actions may have caused misunderstandings."
Suga also says his government will continue efforts to control the spread of the virus over the upcoming holiday season.
It recently announced it would suspend a nationwide travel subsidy campaign.