Eight Infected People Aboard Ship In Serious State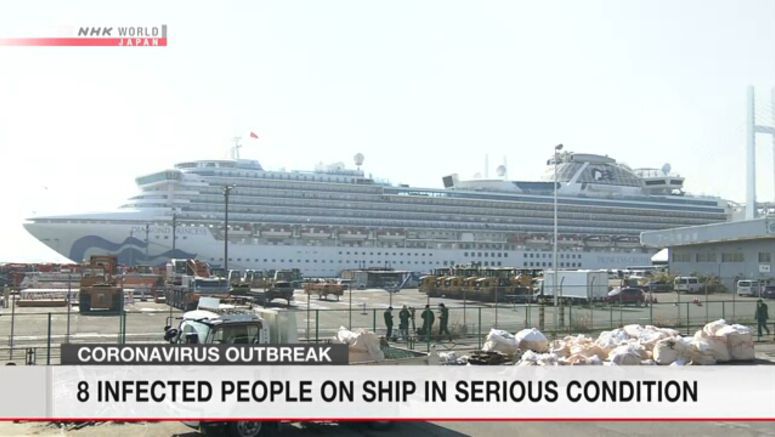 Japan's health ministry says eight of the people confirmed infected with the new coronavirus onboard the Diamond Princess cruise ship are in serious condition. The ship is quarantined at Yokohama Port, near Tokyo.
The ministry says two other people are also in serious condition. One of them has not been confirmed to be infected, while the other is waiting for the result of a virus test.
The ministry says that as of Thursday, 713 people have had virus tests aboard the ship, and 218 have tested positive.
Of those confirmed infected, 110 are Japanese. The others are from 18 countries and territories, including the United States and Australia.
About 80 percent of those who tested positive are in their 60s or above.
The people confirmed infected have either been taken to medical institutions, or are in the process of being so.
The ministry is asking roughly 3,400 passengers and crew to stay onboard the vessel through Wednesday.
The ministry will allow some people aged 80 or older who have chronic health problems, or other reasons, to disembark, starting on Friday if they wish, and if they test negative for the virus.
People will be transferred to government-designated facilities after leaving the vessel.
A quarantine officer who tested positive after working aboard the ship was found to have taken inappropriate actions. These included wiping away sweat with his gloves on, and reusing a mask he had earlier removed from his face.
The ministry says it will urge quarantine officers to do everything they can to prevent being infected.