Emergency Warning For Parts Of Gifu, Nagano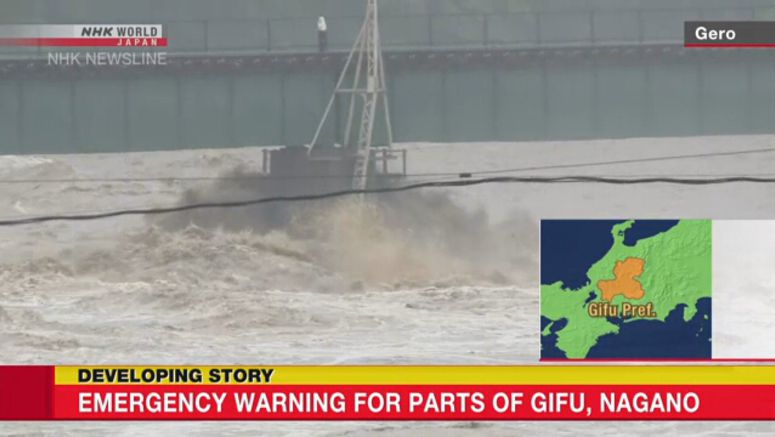 The torrential rain swamping Kyushu has now hit central and eastern parts of the Japanese archipelago. Japan's Meteorological Agency has issued a heavy rain emergency warning for parts of Gifu and Nagano prefectures. The warning is the highest level of alert on the agency's scale. The areas are experiencing rainfall that hasn't been seen in several decades.
Nakamoto Yoshihisa at the Japan Meteorological Agency told reporters, "Cities and towns that have issued emergency warnings are experiencing unprecedented heavy rain. It's highly likely that some kind of disaster, such as landslides or flooding, has already occurred in landslide disaster caution zones and flood forecast zones. The situation is equivalent to the highest alert level 5. It is high time for people in affected areas be on alert and take every measure to protect their lives."
In Gifu Prefecture, the Hida river overflowed its banks in Gero city, prompting officials to issue the highest level of warning in the area.
Evacuation orders are in place in that city, as well as in Takayama city.
In the town of Kiso in Nagano Prefecture, officials say they received several reports of mudslides blocking roads.
In Shimojo village, there are reports of homes being flooded.
Evacuation advisories have also been issued in multiple municipalities in the prefecture.
Days of heavy rain have caused serious damage, mainly in Kyushu. Fifty-seven people have died, two are without vital signs, and 16 others are missing.
Rescue workers plan to continue their search for survivors on Wednesday.