Emergency Warning Likely To Be Issued On Sunday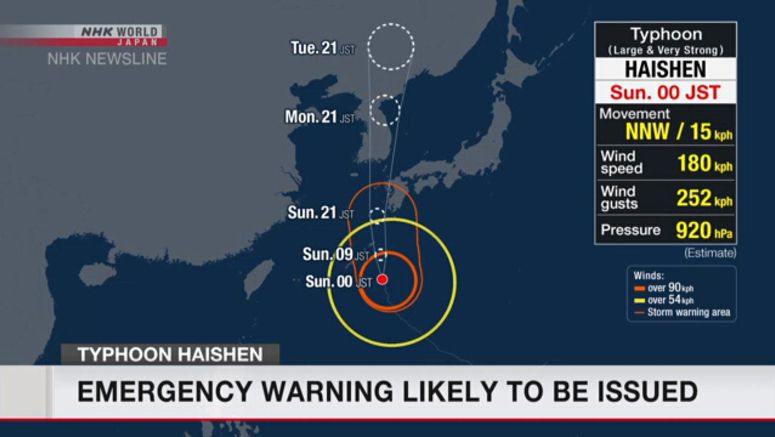 What could be the most powerful typhoon in decades is threatening Japan's southwest. The Meteorological Agency has declared it's probable that it will issue an emergency warning for Kagoshima Prefecture on Sunday morning.
An agency official said, "Typhoon Haishen is expected to approach or make landfall in Kagoshima Prefecture late Sunday night. Kagoshima is expected to enter the storm zone shortly after noon on Sunday. We may issue an emergency warning for violent winds, high waves, and a storm surge in Kagoshima on Sunday morning."
The Meteorological Agency is warning of record-breaking winds, high waves, storm surges, and unprecedented heavy rain elsewhere in Kyushu.
It typically issues a typhoon-related emergency warning 12 hours before the center of the storm reaches its target area.
Officials are calling on people to stay on highest alert and evacuate early in line with evacuation advisories and orders issued by local governments. They also say it's better to act quickly, before violent winds limit movement.
A land ministry official says there is a growing risk of flooding on a number of big rivers in Kagoshima, Miyazaki, and Kumamoto prefectures in the Kyushu region.