Ex - Justice Minister, Wife Indicted For Vote - Buying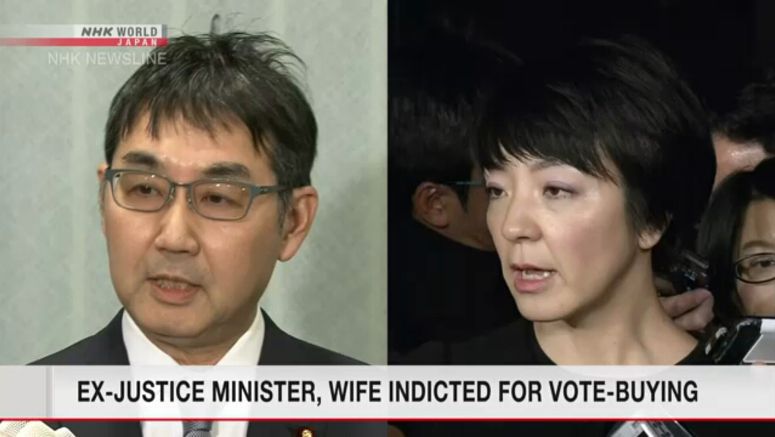 Tokyo prosecutors have indicted former Justice Minister Kawai Katsuyuki and his lawmaker wife Kawai Anri on charges of buying votes for an election.
Prosecutors say Kawai Katsuyuki handed out a total of around 270,000 dollars to about 100 people, mainly local politicians and supporters. They say he tried to secure votes for his wife's successful bid for the Upper House last July.
Kawai Anri is charged with colluding with her husband to give about 15,000 dollars to five local politicians.
Sources say prosecutors continued their investigation after the couple's arrest, based on what is believed to be a list of cash recipients they found on the former minister's personal computer.
They learned that the couple had actually given out about 27,000 dollars more than what they were arrested for.
Prosecutors determined that Kawai Katsuyuki managed his wife's campaign, and have asked the Tokyo District Court to rule on the couple within 100 days.
Even if Kawai Anri is cleared of the charges, her election win could be invalidated. That would happen if her husband is fined or given heavier punishment, that sentence is finalized, and the court approves the prosecution's request to apply guilt by association.
In that case, Kawai Katsuyuki would also lose his seat in the Lower House.
Sources say both of them have denied the charges.
Kawai Katsuyuki has admitted to handing out cash, but has reportedly explained the money was given as gifts to encourage those running in a local election and to gain support for the Liberal Democratic Party. The couple left the LDP just before their arrest.