Expert: 80% Less Contact Can Stop Explosive Spread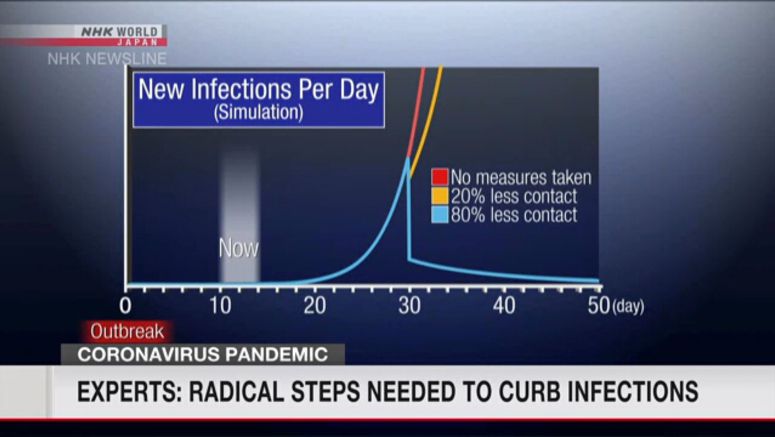 A group of experts says Tokyo could prevent an explosive spread of the new coronavirus by reducing person-to-person contact by 80 percent. The group advises authorities to immediately take appropriate measures.
The projection was conducted by a group that includes Professor Nishiura Hiroshi of Hokkaido University, a member of a government taskforce on cluster infections.
The group projected the daily increase in patients after 30 days from the onset of an outbreak under three different scenarios. The first case simulated a possible increase when no measures were taken. The second was one with 20 percent less person-to-person contact when a moderate request to stay home was made.
The third one was a case with 80 percent less contact, with strict restrictions on outings.
About 6,100 new daily patients per 100,000 people were projected under the scenario of no measures being taken.
With 20 percent less contact, the figure was about 4,900.
The number was about 1,200 under the scenario of there being 80 percent less contact among people.
The group says the first two cases will lead to an explosive spread in infections, while the last one will head Tokyo closer to the end of the outbreak.
The group says Tokyo is about 10 days to two weeks into the rapid spread of the outbreak and that the city is at a crucial point in preventing an explosive spread.
Nishiura says stricter restrictions, like those in Europe, would be needed to reduce contact by 80 percent and that the central and local governments should act quickly.
He added that efforts to keep medical services, public transportation systems and logistics running are also important.
The professor also called on citizens to start doing what they can without panicking.