Expert: Infection Control May Be Difficult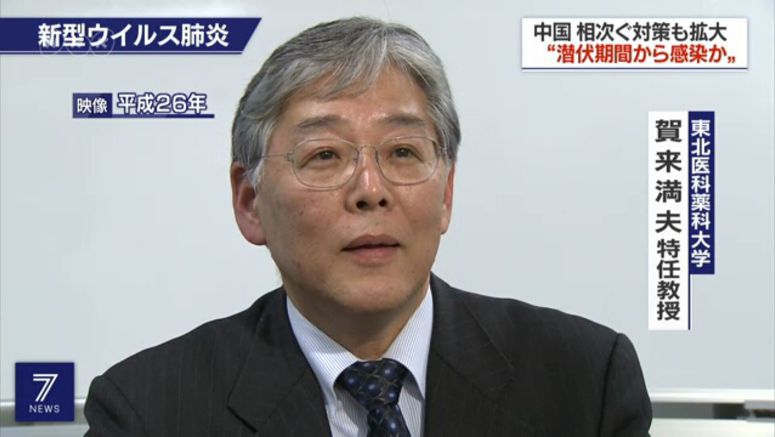 A Japanese expert says infection control and prevention will be difficult for the new coronavirus linked to a pneumonia outbreak in China.
Tohoku Medical and Pharmaceutical University Professor Mitsuo Kaku says infections may occur when people have no apparent symptoms. He warns that the number of patients may rise in Japan as well.
Kaku says the number of cases in China is continuing to increase despite large-scale traffic restrictions in Wuhan, the epicenter of the outbreak, and elsewhere in the country.
He says the Chinese authorities appear to have a growing sense of urgency because carriers of the virus are likely passing it on even during the incubation period.
Kaku says the new strain of coronavirus is different in that respect from the ones that caused the SARS and MERS outbreaks.
It is generally believed that those with SARS or MERS do not infect others when they have no symptoms such as coughing or a runny nose.
Kaku warns that people who have a chronic disease may become seriously ill if they become infected with the new virus.
He urges people never to take the virus lightly because it is one that humans have never experienced before. He says medical experts will have difficulty diagnosing those with only mild symptoms.
Kaku calls for an all-out effort to prevent an outbreak in Japan. He says medical institutions should thoroughly disinfect waiting rooms and toilets.
He advises people not to touch their nose, mouth or eyes to prevent infection.