Foreign Ministers From 4 Nations Meet In Tokyo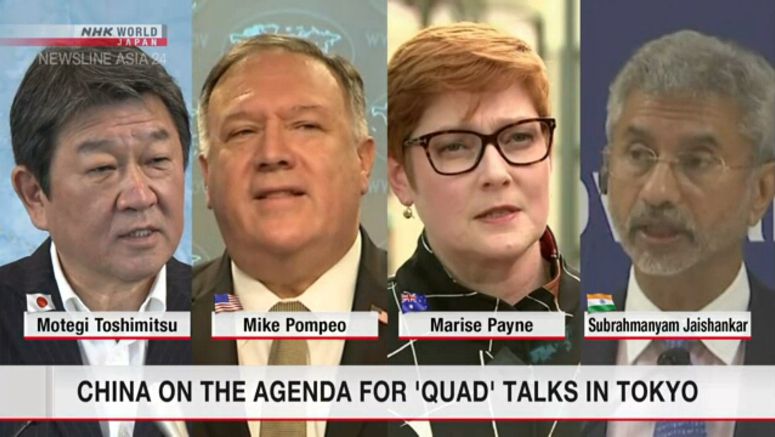 Foreign ministers from Japan, the United States, Australia and India have held a meeting in Tokyo to discuss ways to realize a free and open Indo-Pacific region.
The four-party foreign ministerial meeting started on Tuesday evening. Japanese Foreign Minister Motegi Toshimitsu, US Secretary of State Mike Pompeo, Australian Foreign Minister Marise Payne and India's External Affairs Minister Subrahmanyam Jaishankar were in attendance.
In his opening remarks, Motegi said that the international order had been challenged on various fronts in recent years, with China's increasing maritime activities in mind. He went on to note that the coronavirus pandemic is accelerating this trend.
He also said the four countries share the goal of enhancing the international order based on rules, and that the vision of a free and open Indo-Pacific region will play a major role in achieving that goal. He stressed the importance of many countries coming together to make a joint effort.
The ministers confirmed the consensus among the four nations on the importance of a free and open Indo-Pacific and agreed to continue to meet regularly.