Governors Urge Law Change On Business Closures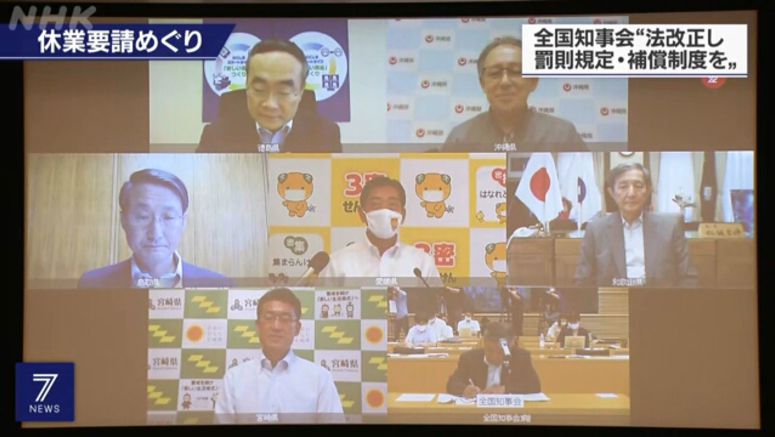 An association of Japanese prefectural governors is urging the central government to make changes in the law to make it easier to enforce requests for businesses to close to contain the coronavirus outbreak.
In a video conference on Sunday, the National Governors' Association agreed to include a request for legal revisions in their emergency proposals.
Tokyo Governor Koike Yuriko called for a change in the law to allow for penalties on businesses that do not comply with requests to close.
Governor Tanimoto Masanori of Ishikawa Prefecture said paying compensation to business is essential to make such requests work, but local authorities are strapped for cash.
He said the government needs to create a legal framework to allow for such financial support.
About the government's "Go To Travel" discount campaign, Niigata Governor Hanazumi Hideyo said it should initially be limited to travel within individual prefectures, and expand gradually to neighboring areas.
The association members decided to ask the government to flexibly review the scope of the campaign in light of the coronavirus situation.
The campaign was initially intended to cover all domestic travel. But trips to and from Tokyo have now been excluded in response to a resurgence of infections in the capital.
The governors also reaffirmed a request that the government expand a program of free virus testing to include local government officials dispatched to disaster-hit areas, as well as volunteers.