Govt. Guidelines For Getting Businesses To Close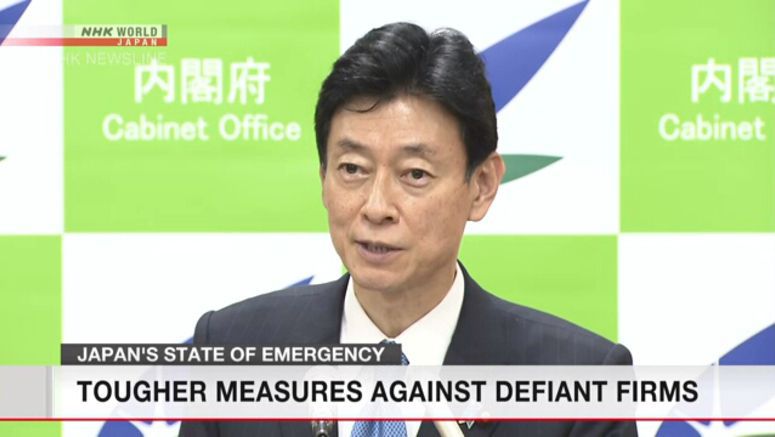 Japan has stepped up efforts to reduce person-to-person contact by 80 percent in a bid to contain the coronavirus outbreak.
Economic Revitalization Minister Nishimura Yasutoshi on Thursday issued guidelines on what kind of steps governors can take to get business owners that continue to ignore government requests to suspend their operations.
Despite local governments calling on businesses to close, some, such as pachinko parlors, have not complied with the requests.
The guidelines say governors are authorized to issue stronger "requests" or "instructions" to those who refuse to comply with initial requests without legitimate reasons.
The names and addresses of the businesses given such stronger warnings will be disclosed online or by other means. This is aimed at dissuading people from visiting such establishments.
Nishimura said some establishments are still drawing a lot of people despite calls for an 80 percent reduction in person-to-person contact. He said the central government continues to help governors properly address the issue according to the situation in each region.
The minister also called on people to stay at home during the upcoming spring holidays. He said people should refrain from travel to tourist destinations outside of their home prefectures.
He asked people to practice social distancing to help the country achieve the 80 percent reduction target.