Heavy Rain Emergency Warning Issued For Kyushu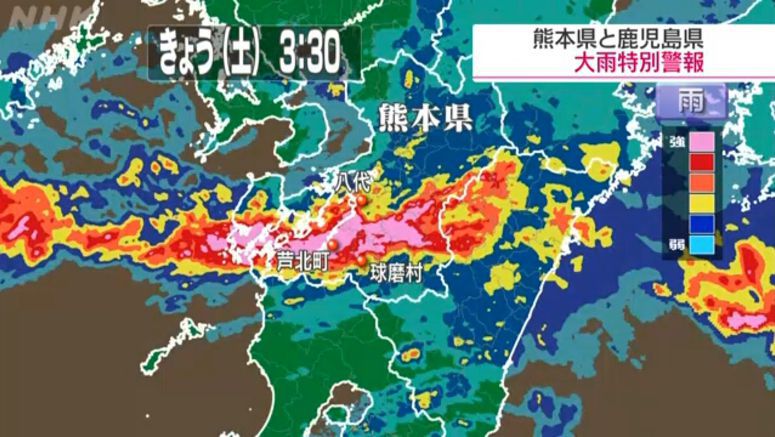 Japan's Meteorological Agency has issued a heavy rain emergency warning for parts of Kumamoto and Kagoshima Prefectures in the Kyushu region. The once-in-decades deluge is the highest warning level on a scale of 1 to 5.
Authorities are calling on people in the designated areas to evacuate or remain in safe areas. The warning has been issued for 16 municipalities in Kumamoto, and 4 in Kagoshima.
The agency says warm and moist air flowing into a front, accompanied by a low pressure system, has created unstable atmospheric conditions over wide areas of Japan, with a band of rain clouds mainly covering Kyushu.
A heavy downpour has dumped more than 100 millimeters of rain in an hour in parts of Kumamoto Prefecture. Weather officials are calling on residents to ensure their own safety.
A landslide alert is in effect for some areas of Kumamoto, Kagoshima and Miyazaki prefectures in the Kyushu region, as well as Shizuoka prefecture in central Japan.
Some rivers in Kagoshima and Kumamoto are at a high risk of flooding.
The front will remain in place from Sunday onward, possibly bringing more rain, especially to western Japan.
Weather officials are also warning of flooding in low-lying areas, overflowing rivers, as well as lightning strikes and sudden gusts of wind.