Heavy Rains Pummel Southern Japan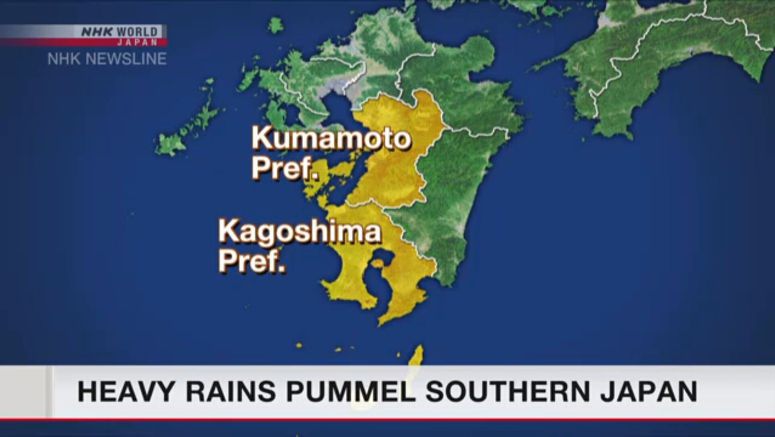 Heavy rains continue in parts of Kumamoto and Kagoshima prefectures in the Kyushu region of southern Japan.
A heavy rain emergency warning issued for three municipalities in Kagoshima prefecture has been switched to a warning. However, the emergency warning is still in place for Isa city in Kagoshima, as well as parts of Kumamoto Prefecture.
Japan's Meteorological Agency official Nakamoto Yoshihisa said, "A heavy rain emergency warning has been issued for municipalities in Kumamoto and Kagoshima prefectures. Cities and towns that have issued emergency warnings are experiencing unprecedented heavy rainfall. It's highly likely that some kind of disaster has already occurred in landslide disaster caution zones and flood forecast zones. The situation has reached the alert level 5. We have to do our best to protect our lives."
The agency says warm and moist air is flowing into a front and a low pressure system. That's created unstable atmospheric conditions over wide areas of Japan -- with a band of rain clouds mainly covering Kyushu.
The downpour has dumped more than 100 millimeters of rain an hour on parts of Kumamoto Prefecture.
Weather officials are calling on residents to take steps to ensure their safety.
The Kuma River, which runs through southern Kumamoto, has flooded.
A bridge has been washed away, and about 100 people who live nearby are stranded.
Evacuation orders urging people to immediately move to safety have been announced in the cities of Kumamoto and Kagoshima.
A landslide alert is in effect for some areas in Kyushu, as well as parts of the Shikoku island.
There have already been reports of landslides.
The front will remain in place from Sunday onward, possibly bringing more rain, especially to western Japan.
Weather officials are also warning of flooding in low-lying areas, overflowing rivers, as well as lightning strikes and sudden wind gusts.